Day 1 - travel
I first heard of Phuket fifteen years ago when I was climbing in Nepal. One of the guys in our group was planning to meet his wife there after our trip. Or as he always said it "After Nepal, Phuket! Of course he mispronounced it to be funny. The correct way to say it is "Pooh - ket" with the P aspirated. I was intrigued by his description of it. From everything I read it was a beautiful place and I have always wanted to go there, but it is a looooong way from the US. Now that we are in Singapore, it was much more feasible.
Phuket is an island in the Andaman Sea. I have traveled a lot and think I know a lot about geography, and I had never even heard of the Andaman Sea much less knew where it was. So you get two points if you know. Otherwise you better go check Wikipedia. It was pretty amazing when we got to go swimming in the Andaman Sea this week.
Shannon was gone for a week to New Zealand on a trip for school (that will be another post later this week when she gets back). So it was just Sandy and I. Not a bad place to spend Valentine's Day.
I was intrigued on the flight in by the sight of some incredible rock islands rising out of the sea. But by the time we landed it was dusk so it was dark by the time we got out of the airport and drove to our hotel. We couldn't see much. That didn't mean it wasn't an experience. Somehow with all the confusion at the airport we ended up riding in a minivan with a family from Europe. It was cheap - only 650 baht for both of us (that's less than $20US for a 45 minute cab ride). But the driver was something else. He was in a hurry. It wasn't that we thought we would crash, but we were sure he would run over one of the motor scooters that were everywhere on the road. The minivan only had three gears, but the driver was way over 100km/hr on some straight stretches. After the first fifteen minutes, the transmission smelled so bad I thought I would have to open the windows. About half way to our hotel the driver stopped at the taxi office and took a break. After about ten minutes of sitting around it was back on the road and NASCAR again. Kind of the ultimate in wait and then hurry up. When we got out at our hotel we could only wish the family we shared our ride with good luck. We didn't know if the driver would crash first or just burn up the transmission. Quite a start for a relaxing holiday.
The hotel was fantastic. Sandy had splurged and picked out a beautiful resort. We had our own garden villa right on a small lagoon with it's own plunge pool on a private patio in the back. We used the patio and plunge pool every night while we were there.
We were hungry after our trip, but found the hotel had a restaurant/bar right along the beach road. We had a pizza and listened to a live band that was pretty good. Well, at least they were interesting.
Day 2 - finding our way around
We started off with a great breakfast at the hotel. Then we went out to explore Karon Beach, the small town where we were staying. It is built along the beach of the same name, a beautiful white stretch of sand that extends for over 4 kilometers around a fairly open bay. Right behind the beach is a road that runs it's whole length, and across the road is the town itself. The beach is beautiful, but it is developed. The entire 2.5 miles is lined with two rows of beach lounges with umbrellas. You pay to get a beach chair, which isn't really a bad thing as the people who collect the money keep the beach almost spotlessly clean. But there are people. The surf is very mild, and the water is shallow for about a hundred yards from shore. The water is warm and clear and beautiful to swim in. It's easy to see why the place is popular.
Seems that most of the tourists are Europeans, especially Scandinavians. North Americans are pretty rare, because it is so far. We did bump into one guy from Canada on our tour (described later). He spotted me because I was the only one wearing a hockey hat! Those people from Northern Europe make the most of their beach vacations. Seemed you almost never saw anyone even wearing a t-shirt. It was bikinis, monokinis or Speedos for everyone (not always a good thing - we were probably below the median age and weight). I don't know how those people could take that much sun all day. An hour of the sun was a lot for me.
We cruised up and down the street along the beach, and wandered a little ways back away from the beach as well. There were tons of: t-shirt shops, bars, restaurants, tailor shops, dive shops, Thai massage parlors. I did end up going back to my old habits and over the trip bought about five t-shirts. I hadn't done that for a few years. The restaurants were of all types. Expensive. Cheap. Thai. Seafood. Italian. Mexican (that's unusual, this is the only place outside of North America I have ever been that Mexican food was common). There were tons of people - on the beach, on the sidewalks, in the streets. This was supposed to be the quiet beach area (the hotspot is Patong Beach just to the north of where we were). Everywhere there were these funny minitrucks which serve as taxis that are called tuk tuk's. And every shop/stall had someone "encouraging" you to buy their product. Definitely a thriving tourist industry. By half way through the day I was quite amused by the commonly available t-shirt that said "No, I don't want a f*cking tuk tuk, suit or Thai Massage, thank you very much".
Sandy did check out some of the tailor shops. They offered custom made clothes for quite a reasonable price. So she went for two suits (she needs to dress like an executive, you know). So part of the day went to selecting fabric and styles. We were supposed to come back for a fitting the next evening. She also found a place (there were lots) where she could get a very inexpensive pedicure, so she went for it right away. She wanted to have stylin toes for our vacation. While she did that I explored a little farther up the beach and into the town. Then we spent some time in our villa so Sandy could do some email. Not too bad while lying in the sun or dipping in our private plunge pool.
---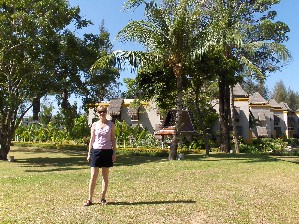 Sandy on the grounds of our resort.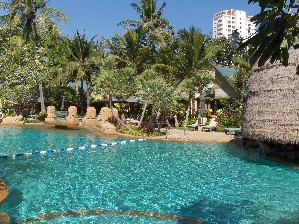 The pool area was really nice. But since we have a pool at home, we preferred the beach.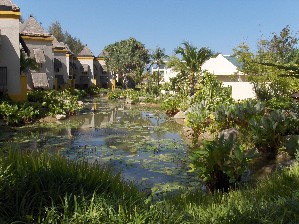 Our villa backed up onto a small lagoon. Between the vegetation and the layout, our patio was completely private.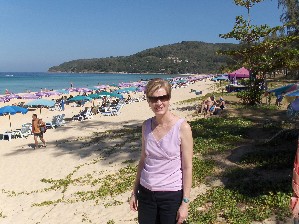 Not so private. Karon Beach in the middle of the day. As you can see, the entire population of Northern Europe comes to Phuket for the winter.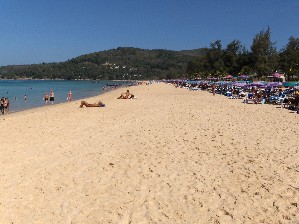 Karon Beach is 4 km's long. It is lined two rows deep with beach lounges and umbrellas for pretty much it's entire length.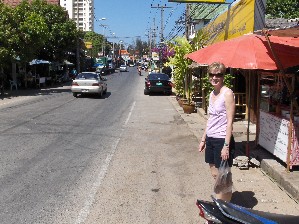 Sandy and I explore the town of Karon Beach.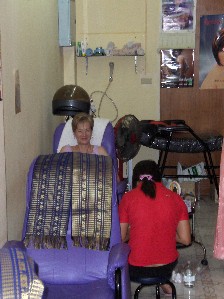 Sandy gets a pedicure the first day. You've got to have fancy toes to hang out at the beach.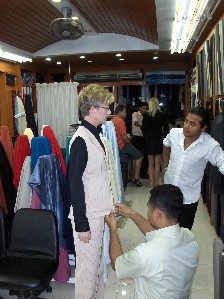 Ms Sandy the Executive is fitted for a custom suit. Dress for success - that's always been my problem.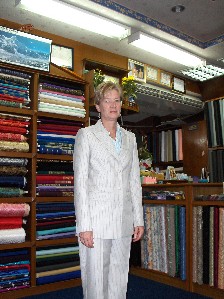 Two days later and the suit is almost ready. I can't tell if Sandy doesn't like the progress or just wants to hit me over the head with the camera..