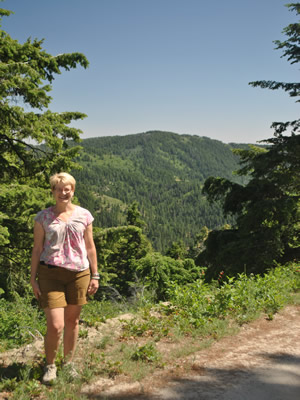 Sandy hiking with Boise Mountain in the distance
The closest mountain hiking to Boise is at Bogus Basin. My standard hike there is to hike up Schaeffer Butte from the upper lodge. Schaeffer Butte is not spectacular but it is the highest point visible from the Treasure Valley. It is quite prominent. When driving towards Boise from the west on I84 you can see it from 60 miles away in Ontario Oregon. I've done the hike lots of times. It takes about an hour to drive to the trailhead from our house. It's usually one and a half to two hours to the top and back down to the car. It's a good warmup in late spring when the high mountains still have a lot of snow.
We hadn't had much luck this year though. Once Sandy and I planned to go but the road was closed for a bike race. Then Laney and I did make it up in early May. I thought it would be easy since I hadn't seen snow on Schaeffer Butte for weeks. But we see the south side from the valley. The main trail circles around to the north side just before the top. We hit snow for the last two hundred feet on a long traverse. Not good on hard snow with low top boots. We made it up but I took the long way down to stay on the south side all the way.
Today was a nice day, in fact too warm for a long walk in Boise. Going up to Bogus it would be ten degrees cooler. After lunch we all piled in the car and drove up. But when we got to Bogus we found that the road to the upper lodge was closed. There was an auto hill climb. Ok - we went back to the lower lodge. There were lots of people there too. Turns out there was an archery event of some kind. We started to walk but after a few hundred yards turned back. All those people shooting bows and arrows all over the place made up nervous. We were afraid that large moving targets might prove too tempting. So we got back in the car and started down.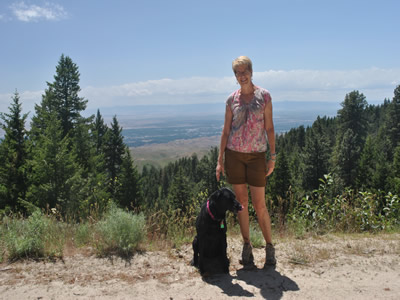 My two favorite hiking partners with a view of downtown Boise
About a mile down the road there was a dirt road leading away from the main road and up the ridge. We parked and headed up. After a short false start we found the main road up to Deer Point. It was a nice walk. We saw a few people on mountain bikes and a few on trail bikes but no other hikers. It was a pleasant hike. There were acually a lot of flowers for so late in the season. We've had a cool wet spring. To hike up to Deer Point and back took us about two hours so we figure that it was at least four miles round trip. With a thousand feet of elevation gain it was a good workout for all of us.