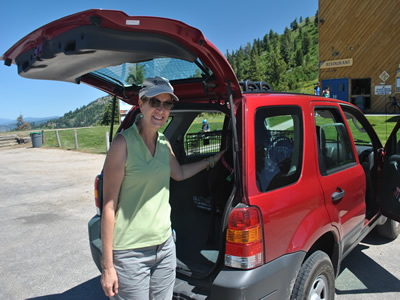 Laney is shy at the trailhead
I somehow managed to survive my first week of work. Friday night we had a nice dinner with Mickey and Sara and Eva - more on that another time. So I wasn't really ready to take off before dawn on Saturday morning. But I was up early - a bad habit that I seem to have acquired now that I am working again. Sandy was feeling better and it had been a few weeks since her surgery. She was ready to try something a little more ambitious than walking around our neighborhood to see how she did. We decided to head up to Bogus Basin and do the regular hike up Schaeffer Butte.
There were more cyclists on Bogus Basin Road then there were the Friday before. There were quite a few people at Pioneer Lodge fooling around - playing catch or sitting and talking or whatever. But as soon as we started walking we were by ourselves again. We went up the Tempest Trail and walked down the service road. We only saw about half a dozen people hiking. So I guess I was wrong last time. Even on a Saturday with gorgeous weather there were very few hikers here. The view was great. The wildflowers were out (Sandy could even identify most of them for me - she is the family expert on flora.) And the temperature was just about perfect with a mild breeze.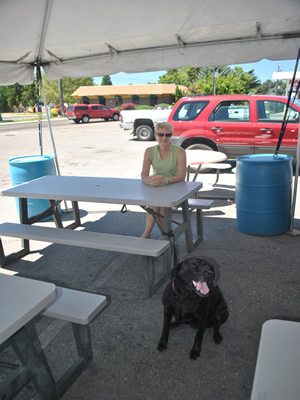 I can haz cheezburger? Opps, wrong species
After driving back to town we stopped at a drive in for lunch, Hawkins Pac-In. They had some picnic tables set up under a big tarp next to the drive in that were a perfect place to eat - especially when you had a dog with you. Laney of course managed to persuade us to share our cheeseburgers and fries with her so she was happy. We were home by early afternoon.
I spent the rest of the afternoon checking REI and Benchmark (the two outdoor stores in Boise) for maps for some areas in Nevada that I was interested in hiking. I didn't have any luck. So finally I stopped at Borders. The bad news is that Borders just announced that they were going out of business. The good news is that everything in the store was on sale. I found all kinds of books that I wanted and it took me forever to narrow it down to five books that I bought. Very sad though.
With good weather forecast for Sunday I was supposed to get up before dawn to leave for the mountains to do a big hike. But I rationalized that because I couldn't find the maps I needed, I couldn't really go. That meant that I might as well sleep in. No sense wasting a perfectly good Sunday morning when I could be sleeping. When I finally got up I joined Sandy and Shannon for lunch at the mall. That meant another trip to Borders and five more books. And I still have a bunch that I would like to get. I am going to wait and see if they increase the discounts as time goes by. Most of the books that I still want to get are esoteric technical books that I suspect will be the last books left in the store. So I am waiting for the big, last-minute discounts. Plus I got some mapping software at REI that lets me print my own topo maps. I just have to send them to work with Sandy so that I can get them printed on large paper so that there is enough detail to make them usable. So I hope to be ready for ambitious hiking next weekend.