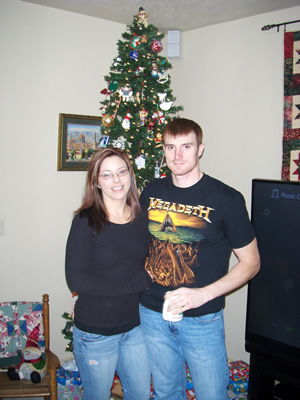 Tim and Shannon on Christmas Day 2011
Best news this Christmas was that Tim was coming back to Boise for a visit. I don't get to see him nearly often enough so that was exciting. His last visit had been back in April after he had returned from his deployment in Afghanistan. Usually it is a chance to get in some good wargaming with him too. This time he was bringing his girlfriend Shannon back with him. I was anxious to meet her. With Shannon back from school in Iowa as well though it was going to be confusing. Too many Shannons around!
Unfortunately Mickey and his family couldn't make it back to Boise. Still we had two out of three kids back for the holidays. I was also looking forward to some time off from work. Since I had started my new job in July this would be the first long break I would have. I really like my job but I have to admit that I was looking forward to ten days that I didn't have to get up early. No alarm clocks!
Shannon came back a few days before Christmas Eve. She just beat a winter storm. The flight from Denver to Boise that was after her flight was cancelled due to weather. She just missed an opportunity to spend a night in the Denver airport. Tim and Shannon flew to Boise two days later after the storm had blown through. We were lucky this year. We had the bad weather bracketed.
The night before Christmas Eve we all went out for a nice dinner at Bella Aquila, an Italian restaurant in Eagle. We had gone there the past summer with Mickey and the gang when they visited. This time it was a bit too cold to eat out on the patio but it was still a really good dinner.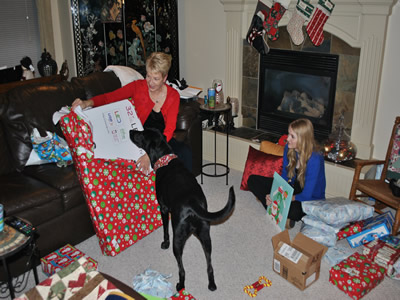 Laney helps Sandy open her presents
Christmas Eve was quiet - just Sandy, Shannon and I (and Laney of course). Sandy made an awesome lasagna dinner. Afterwards we opened a few presents. Laney got some treats from Santa. She insisted that it was the first present that was opened. After that she had to poke her nose into every single gift that anyone unwrapped just to make sure that there weren't anymore treats. She was as excited as a little kid.
Tim and Shannon came over on Christmas Day. We opened some more presents. I must have been good because I got some cool stuff: some wargames (even some old out of print ones from Shannon W.), two new classes (one on physics and one on philosophy), some videos, computer games, clothes and some gift cards. Not a bad haul. Plenty of stuff to keep me busy and out of trouble for quite a while. I'm going to have to retire again one of these days so that I have more time for all this stuff.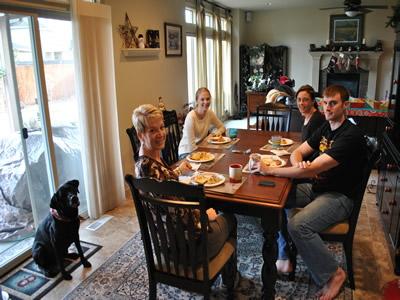 Everyone gathered around the table on Christmas Day
Sandy made another nice dinner - rissoto, home-made bread and made-from-scratch cheesecake for dessert. There was plenty of good wine. Plus lots of snacks all day long. As usual I was eating too much over the holidays. I am going to have some work to do to be in shape for hiking and climbing next summer. I have ambitious plans.
We even gave Shannon W. her first taste of wargaming. We played Epic Ancients, with Shannon and I on one side and Tim and Sandy on the other. We played the Battle of Cannae from the Second Punic War, one of the most famous battles in history. Sandy and I have gamed this battle many times. When we finished we switched sides and played it again. True to history, the Carthaginians won both games. Hannibal was just too much for the Romans. Later in the week Tim and I were able to get in some other game sessions. We were able to play No Peace Without Spain, a card-driven game on the War of the Spanish Succession. I had received the game as a birthday gift from Tim but hadn't had a chance to play it yet. Both times I played as the Bourbons and lost to Tim's Hapsburgs. But the games were fun and I learned a lot about a period of history that I didn't know much about. Hopefully there will be a VASSAL module out for it soon so that Tim and I can have a rematch online.