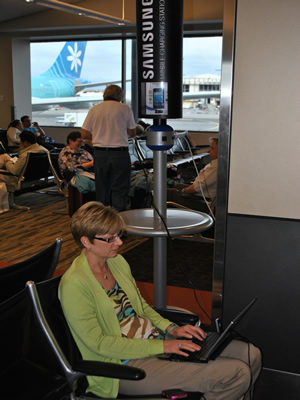 Sandy gets her last email fix in LAX
With lots of company over the past month, I am way behind on getting posts up on recent events. The only way to fix that is to start putting up posts, so I'll start with our tropical trip in February.
Sandy and I were planning a trip for early this year. We had piggybacked a hiking trip in the Pyrenees mountains last September on a business trip that Sandy took to Europe. In October we went to theSedona Jazz Festival. But Sandy had been traveling a lot for work late last year, so around the holidays it felt good for both of us to just be home together. But before too long we started to get the itch to go somewhere fun again.
We were planning to do another trip in connection with one of her business trips. She had to go to Dubai in the U.A.E. in February. Our plan was for me to go along and for us to spend some extra time there when her meetings ended. Dubai is an interesting place that we had thought about visiting before but had never managed it. Seemed like too far to go whether we were in the US or were in Singapore. It is kind of a cross between Las Vegas and Singapore with Arab flavor thrown in. We figured that at least we could have lunch in the tallest building in the world.
But then her business trip started to change. It didn't look as sure as before - maybe the date would change, maybe it would be postponed, maybe it would be cancelled. It was just too uncertain for us to schedule. So we decided it was a no go. When things started to get exciting in the Middle East just around the time we would have gone, we figured that we had made the right call.
Then Sandy revived an earlier idea to go to Bora Bora. It is often referred to as the most "exotic island in the world". The novelist James Michener, who served in the US Navy in the South Pacific during WWII, called it "the most beautiful island in the world". With this many superlatives used to describe it, we had always wanted to make a visit to see if it lived up to its reputation. We have been to Moorea, also in the Society Islands, twice and regarded it as the prettiest tropical island that we had ever been to. And we have been to quite a few. So we decided on a trip to Bora Bora.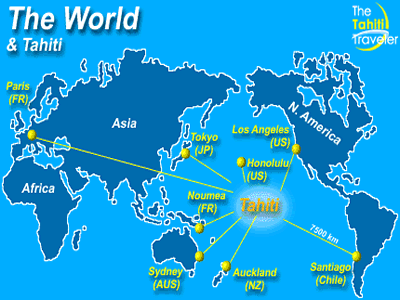 Tahiti is a long way from everywhere
Bora Bora is part of a group of islands known as the Society Islands. They are pretty much right in the middle of the Pacific Ocean, and that's a big ocean. They are over 4000 miles southwest of Los Angeles and over 2700 miles south of Honolulu. Sydney, Australia is 3800 miles to the west while Santiago, Chile is almost 5000 miles east. Those are long distances when you consider that it is only about 3500 miles straight south from these islands, in the heart of the tropics, to the coast of Antarctica.
Politically the Society Islands are part of French Polynesia along with a few other more obscure and lightly populated groups like the Gambiers and Marquises Islands. They were conquered as a colony by France in the nineteenth century but are now a territory of France, much like Guam and American Samoa are part of the US. Tahiti is the largest island and the most famous. It is the name that everyone will recognize. For most people the name represents the ultimate exotic tropical island. Tahiti has the only international airport so most people traveling to the islands will pass through Tahiti. It has the only city, Papeetee, which has about 135,000 people. It's not much smaller than Boise. On a previous trip we spent a day in Papeetee and weren't favorably impressed. It's a harbor town. Cramped and hot and crowded. Not very nice. But no one goes to a South Pacific island to see a city. Although there are some resorts on Tahiti many tourists just pass through on their way to other islands in the group. We had made two previous trips to Moorea, a spectacular island only 11 miles away from Tahiti. But other than an afternoon spent in Papeetee waiting for a late night flight home, we hadn't spent any time on Tahiti itself.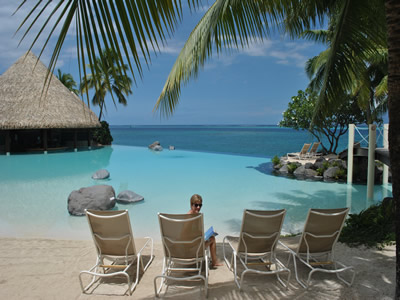 Sandy has the pool all to herself
Although our ultimate destination was Bora Bora, most flights from the US arrive very late in Papeetee after a long day of travel. We opted to stop in Tahiti rather than spend an uncomfortable night in the airport. As long as we were spending one night, we decided to stay an extra day and night so that we could at least spend some time at one of the resorts on Tahiti. Then we would fly on to Bora Bora to spend five days there.
The weather in Boise cooperated for our vacation - we had a cold spell just before we left. A week in the tropics was sounding pretty good. It's a long day of traveling to get to Tahiti. Just the flight from LA to Papeetee was over eight hours and we arrived at about ten at night. But it sure felt nice and warm as we walked from the plane into the terminal. After a slow line through immigration we grabbed our luggage, found our van, and had a short five minute ride to the hotel. It was almost midnight when we got to our room so we were ready to crash. With the time change it was four in the morning for us.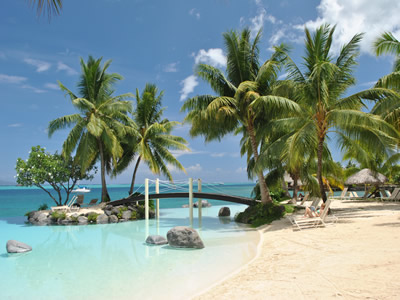 Artificial but it's still really pretty
One advantage of traveling several time zones west is that you feel like you have slept in even when you get up fairly early. So we felt well rested the next morning even after our long trip and late arrival the night before. We put on tshirts, shorts and sandals and set out to explore the resort. The first thing that struck me was how strongly being back in the tropics reminded me of Singapore - heat, sun, humidity and the smell of tropical flowers everywhere. It sure was nice after a winter in Boise. After a quick tour around the grounds we were ready for breakfast. It was a big buffet with every kind of tropical fruit. Delicious. Another reminder of Singapore, where I used to go to the market every day for really fresh tropical fruit. It's one of the things I have missed most since we moved back. So breakfast was nostalgic and a real treat.
The resort was quite nice. It was just five minutes west of the airport but that was the right direction, away from town. There was a large pool that was very pretty, complete with fake rock cliffs and waterfall that you could swim behind. Beyond the pool was the "Lagoonarium". This was a tame artificial lagoon for the resort guests. Tahiti is completely surrounded by a fringing reef that seperates the open, deep water of the ocean from the calm, sheltered, shallow water of the lagoon. Near our resort the barrier reef was maybe a quarter of a mile offshore. The big ocean waves crashed against the reef which acted just like a breakwater. But for a lot of tourists I guess that is still too adventurous. So they have an artificial lagoon. They pump in seawater, have a lot of artificial rocks and coral formations in it, and stock it with reef fish. From the hotel you looked out over the pool area, then the artificial lagoon, then the real lagoon with the waves crashing on the barrier reef, and in the background eleven miles away were the spectacular mountains of Moorea. Beautiful.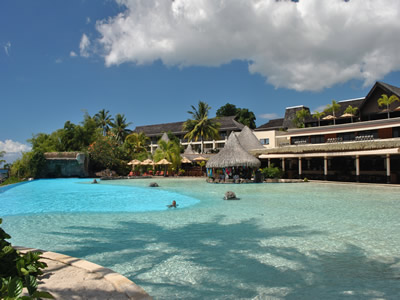 Main pool at the resort - that's a BIG pool
There weren't many people at the resort. We guessed that it was at most a quarter full. Lots of room in the main pool area. But we liked a spot at the other end of the resort even better. There was a second smaller pool. It had the obligatory swim up bar. What made this pool unusual is that it had a sandy bottom, and the area around the pool was covered with sand just like a beach. At the opposite edge of the pool it dropped off about five feet to the real ocean. It made for a cool effect when you sat and looked over the pool to the ocean and Moorea in the distance. Instead of being under a patio umbrella like at the main pool here you were under a palm tree. It was artificial but it was very pretty. And there wasn't a single other person there. So Sandy and I stretched out some empty beach chairs and laid back in the warm sun to enjoy the view. And read a book. And take a nap. Yeah, it's a tough life.
In the afternoon we decided to get really ambitious and go snokeling in the artificial lagoon. There were actually quite a few fish in it and so the snokeling wasn't bad. Sandy and I did a lap or two around the lagoon. Then Sandy spotted a large moray eel in one of the rocks and decided that it wasn't that tame after all. We're divers and have seen moreys lots of times and know that they look menacing but are really harmless, but she still hightailed it out of the water. I guess she wanted to get some more sun before the afternoon was over.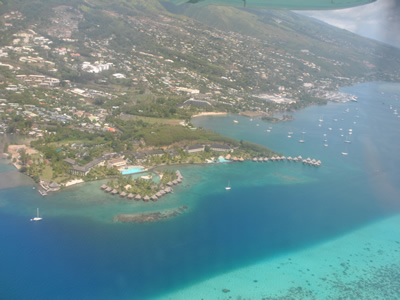 Our Tahiti resort from the air
It was more serious lounging in the sun until it was finally time to go get cleaned up and dressed for the evening. We didn't want to miss Happy Hour! Although the resort had been empty most of the day it got quite busy in the evening. Seemed like a lot of locals came to the lounge for drinks and the restaurant for dinner. But we still enjoyed some inexpensive but excellent French wine during Happy Hour - an advantage of being part of France even in the South Pacific. For dinner I had really good wahoo/ono. It's my favorite fish but I hadn't had it for a long time. It's not that common in the US and it had been quite a while since we had done a tropical island vacation. While we lived in Singapore, somehow tropical islands lost some of their allure for vacations. But two years back in the US had fixed that.
The next day we had an afternoon flight to Bora Bora for phase two of the vacation. We could lounge around the resort in the morning. Then after lunch we changed into travel clothes before checking out of our room. We had a short panic at the airport when we tried to check in for our flight. They didn't have us listed! But there was room and after the agent had a long session with the supervisor we got our boarding passes for Bora Bora. Whew! Hey, there wasn't supposed to be any stress on this vacation.
As we took off from Papeetee we had a great view of the resort that we had been at. It had been really nice - an excellent start to the vacation. But it was still just the undercard. Now it was time for the main event.