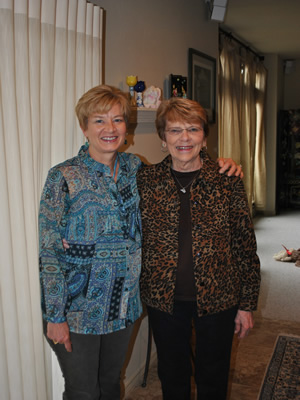 Sandy's mom finally smiled for a picture
The first half of March we had Tim visiting as described in the last post. Then Shannon was here for a week for spring break. When she had to go back to school we had a short time before our next company. Sandy's parents came out to visit. Typically they like to drive but this time they flew out. I don't mind long distance driving. It has the advantage that you can take as much stuff as you want. Handy for me on hiking/climbing trips or at game conventions. I typically take at least two boxes of games plus plexiglas plus purchases to bring home. And speaking of purchases to bring home, driving is great for wine tasting tours. But for visiting relatives flying saves lots of time, so I think they made the right choice.
Laney of course was really glad to see them. Especially Gramma. Who of course had some treats packed in her bag. The kids may be grown but the Lawry's are still spoiling grandchildren.
Our company arrived in time for our wedding anniversary - seventeen years. Seems like forever! No, I mean it's hard to believe it's been that long. No, that's doesn't sound right either. I think I'll just shut up now.
To celebrate our anniversary we went out to Chandler's Steakhouse. We hadn't been there yet but had been meaning to try it for quite a while. It opened while we were in Singapore and quickly acquired the reputation as the best steak place in Boise. And it didn't disappoint. We had an awesome dinner there. Certainly as good as anyplace that I have been before. I had a steak filet and it was delicious with no waste. And even with wine the price was reasonable. Since it is just across the street from Qwest Arena the only thing better would have been if I had worn a hockey jersey and caught a Steelheads game afterwards. Laney of course was disappointed that there weren't any leftovers. We fixed that later in the week by going to Goodwood's and bringing home lots of scraps for her.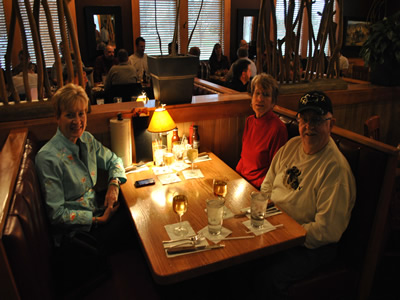 Dinner at Goodwood's - the best doggie bags in town
The Lawry's adopted the same idea as Tim - they used our place in Boise as a base for visiting other relatives in the West. So they borrowed one of our cars and drove to Nevada to visit Sandy's Aunt Marilyn in Carson City. The high point of their visit was the Carson City Wine Walk. At least it seemed that way as Sandy's dad was sending us a steady stream of text messages describing all of their wine tasting stops. I stopped counting at seven. It did sound like fun. Sandy and I might try to catch it in combination with a hiking trip to the Sierras this summer. I'd love to climb Mt. Rose. It's the highest mountain on the north side of Lake Tahoe. Sandy and I climbed Mt. Tallac, which is the highest mountain on the south side some years ago. It could also be a stopping point on the way to the Desolation Wilderness, Yosemite, or the Southern Sierra from the Owens Valley. Lots of possibilities.
The Lawry's got back to Boise in time for us all to celebrate a birthday - Sandy's mom. We went to Gino's - our favorite Italian restaurant in Boise (yes, it passed up Louie's - hard to believe). We all had great dinners and had a good chat with Gino himself who always checks with the customers to see how they like the food. When spring finally gets here nothing beats having dinner and a glass of wine on the patio at Gino's.
So we had an excellent visit. Laney was especially sorry to see gramma leave to go home. We don't buy Twinkies for her.