Gaming is probably the most demanding application there is for a PC. So while PC's have been getting smaller, lighter and cheaper this hasn't helped someone like me who is a hardcore PC gamer. As technology advances games just keep making their graphics better and better. To play modern games with high detail graphics on a large display pushes the state of the art for performance. For my PC, no boring Chevy Malibu for me. I need a Ferrari for the kind of games that I play. But that means a high price tag. It can also mean that the systems are more tempermental. Good thing that I am an IT professional.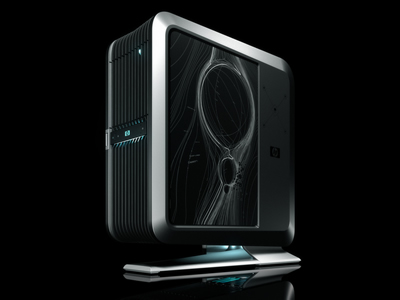 HP Blackbird 02 - my amazing gaming rig
My first try at a high performance PC was back around 2004 from a boutique PC maker - CyberpowerPC. They allow you to choose every component of your PC, not just the processor but the case, the power supply...everything. Unfortunately that means that they just assemble the system. They don't do any system testing. That can be a problem. I did a post back in 2007 that described all the trials and tribulations I went though trying to solve heat problems on that system when I used it with a large display.
Then for Christmas 2007 Sandy got me an awesome present - an HP Blackbird 02. This was my dream system. It was a high performance gaming system done by HP. It has a breakthrough thermal design. If there is any system that won't have heat problems it will be my Blackbird. The entire case is aluminum with heat fins built in (and done so that they look cool too). The Blackbird weighs about 80 lbs. It has a lot of metal!
When I got my Blackbird at Christmas 2007 it was a very hot system. I didn't get the best of everything but almost. In PC's you always pay a huge premium to get that last little bit of performance. So most of the stuff I picked was one notch below the absolute best available. I got a midrange processor (CPU's don't matter much for gaming - it's graphics that counts). I got an excellent motherboard - an Asus Stryker Extreme. 8 Gbytes of DDR RAM. A 10000 RPM hard drive for a system disc (a typical disc is 7200 RPM) for fast boot up. A 1200 watt power supply so that I could power anything - for comparison most stock PC's come with a 300 watt power supply. Best of all I got an nVidia 8800GTX. This was the fastest graphics card in the world when it was released. I had a 24 inch monitor with 1920x1200 resolution. At that resolution I could run any game at maximum detail with my graphics card.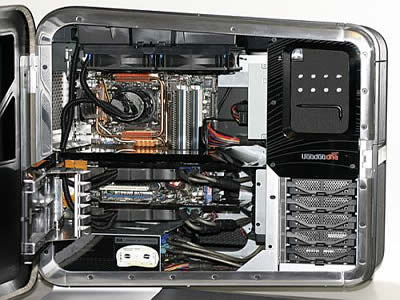 The inside of the Blackbird
I was very happy with my system. I did run into a problem when we moved back from Singapore. I made special arrangements and had my Blackbird packaged and shipped separately by a company that specialized in moving computers and electronics equipement. But when my Blackbird arrived in the US it looked like someone had run the fork of a forklift through the side of the box. It didn't work. I had to survive on a laptop for a month while it was shipped back to HP and repaired. But when it came back it was as good as new.
But things change fast in the PC world. What was a hot system yesterday gets passed up today. So over time my Blackbird began to lose ground. The first problem that I ran into was Bluray discs. I wanted the ability to watch them and burn them on my system. I had been monitoring the price and waiting for the cost of Bluray drives to come down. Finally last year I bought one. No problem - I just swapped out my existing CDROM drive for the Bluray. Except that it didn't work. That's when I learned about HDCP. Since the movie industry is paranoid about people stealing their content, the Bluray standard is defined so that the data is actually encrypted when it is sent from the processor to the video card. That means the video card must support the HDCP standard or it won't play Bluray discs. I found out that my nVidia 8800GTX, excellent graphics card that it is, doesn't have that support. So I needed a new graphics card if I wanted to play Bluray discs on my PC.
Just getting a new graphics card wasn't that easy. The problem was that everything had been changing. New graphics cards had higher performance which meant that they needed more bandwidth. By now PC's had moved beyond PCI-Express to PCI-Express 2 with PCI-Express 3 just coming out. So I needed to get a motherboard that supported the new interfaces if I wanted to get a new graphics card. But then I would need new memory - DDR RAM is old fashioned now. And my old Core2Duo processor wouldn't work with the new socket on the latest motherboards. And if I got a new CPU chip for the new mobo socket then I would need a new CPU chiller - my liquid cooling unit had a block designed for my socket 775 Intel Core2 Duo processor. This looked like a major project so I decided that Bluray discs weren't worth it. I paid a hundred bucks for a Bluray player and watched movies on my tv.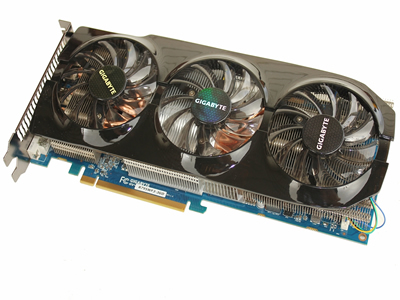 Gigabyte Radeon 7950 card - maybe it needs more fans
Then this summer I got a new job. To celebrate (and now that I had income) I bought myself a new monitor. I got an HP ZW30, a 30 inch monitor with 2560x1600 resolution. That's as large as monitors get. To put it in perspective, HD tv at 1080p only takes up about a quarter of my screen. But a monitor that big, with that many pixels, needs a lot of graphics horsepower. My 8800GTX was no longer up to the task. When I played a game I had to turn all the graphics settings from maximum to minimum and still it was jerky sometimes when a lot was changing on the screen. That was it. I needed to upgrade.
But then the question was whether to upgrade my Blackbird or to just buy a whole brand new PC. I went for a couple of months trying to decide. I really wanted to keep my Blackbird case but all the changes were very challenging. So I procrastinated. Then I got a friendly nudge, so to speak. Something failed on my PC (it turned out later to be the Northbridge on the motherboard). My PC was dead. Now I had to do something.
I talked about it with my colleagues at work, Ivan and Eric. They thought that my Blackbird sounded like a pretty impressive system and that I should do everything that I could do save it. I brought it into work. Right away Ivan was taking it apart and saying that he would help me to get it fixed up. Ivan is amazing with PC hardware, much more skilled than I am. With his help I felt that I could tackle the upgrade. So it was on. In fact, I had to hold him back from completely taking it apart right away. I wanted to wait till I had everything for the upgrade in hand. That took a while.
I investigated graphics cards and decided pretty quickly on the Radeon 7950 chipset. This is one notch below the top of the Radeon line. Plenty of horsepower to drive my big display but since it isn't the absolute fastest card, more reasonable in price. Reasonable is relative though - it was still $500 just for the graphics card. It is an amazing GPU though. It has 4.31 billion transistors. Yup, that's billion. That's probably how many transistors there were in all the electronics in the entire world back in 1960. It consumes 200 watts of power too. I decided to add an extra fan to make sure that I had plenty of airflow.
Deciding on the chipset is just the start. There are many companies that take the chipset and design and produce the actual cards. I decided to go with Asus. They had done the original motherboard in my Blackbird and I was very happy with it. They have a very good reputation in the PC enthusiast community.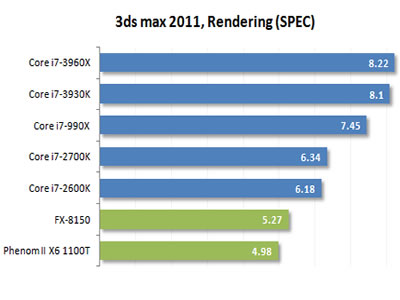 CPU benchmarks - 3930k looks like the obvious choice
Next I looked at processors. They aren't that important for gaming so I figured that an i5 2500 would be fine. Ok. At least that was easy.
Then I spent a lot of time looking at motherboards. Since I was planning on getting an i5 processor I was looking at socket 1155 motherboards. There were lots to choose from at reasonable prices. The best choice looked like a board based on the Intel Z68 chipset which had just come out a few months earlier. After a while I settled on the Asus P8Z68-V/GEN3 and thought I was set. But then just as I was about to place my order something bothered me. The motherboard said that it was "PCIe3 Ready". Hmm. The wording was a little suspicious. So I dug deeper. It turns out that since the memory controller is in the processor in the Intel architecture, it isn't the motherboard that determines if you have PCI Express 3, it's the CPU chip. The motherboard has to support PCI Express 3, but the CPU chip determines if you really have PCI Express 3 or not. And the only Intel processors that support PCI Express 3 today are the high end 39xx family. These are enthusiast CPU's with the highest possible performance, the ability to tweak all of their settings (something I don't care to do) and high price tags to match. I had looked at it but decided no way did I want to pay the big price premium for that CPU family. But I did want to get as much bus bandwidth as I could for my video card. So I went with an Intel i7 3930k (Sandy Bridge-E) processor. That is the cheaper of the two 39xx processors and definitely the better deal. But it was still about $600. Pricey! Most people don't spend that much on their whole computer. Since that processor family uses a different socket, the LGA 2011, I had to choose another motherboard. It was back to the web to research and shop. I looked really hard at the Asus P9X79. It was the most obvious choice. But some of the reviews that I read were not stellar. And a lot of what it offered was the ability to tweak lots of settings - something that I don't do. I prefer stability to trying to coax another 5% of performance out of my system. I finally settled on an Asus Sabertooth X79 motherboard. It isn't the enthusiast, highest performance mobo. It's targeted more at workstations and servers. It's designed for better heat dissipation. Solid, reliable design. That was fine for me. I don't want to tweak for highest performance. I want stability and reliability.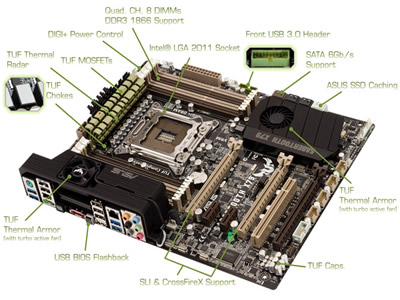 Asus Sabertooth X79 - my new motherboard
All this shopping took me two or three weeks, spending several hours on the web doing research every night. Finally I was ready. Then at the very last second I found an article on the web that said that the Asus HD7950 video card had a major design flaw. Oh no. Not again. Stop!!! Back to more research. It took me two more nights but I eventually decided on the Gigabyte GV-R795WF3-3GD instead. Finally I placed my orders with Amazon and Newegg. A new CPU chip, a new CPU liquid-cooled chiller, a new motherboard, new RAM, a new videocard and a copy of Windows 7.
But then I decided to get one more thing. I had been thinking about getting a solid state drive for my system disc for quite a while. But every time I looked into it, I decided that the technology just wasn't mature enough. The failure rates were too high. But with the MacBook Air and all the iPads and iPhones that use solid state memory, the technology finally seems to be ready for prime time. So after several more nights of study I picked an Intel Series 520 120Gbyte Cherryville SSD for my system disc and ordered it. Now I just had to wait for everything to arrive. It took about a week.
When everything had finally arrived I took it all into work. The minute I got it there Ivan was already unpacking things and checking them out. He was having even more fun with all the new toys than I was. But he did 95% of the work on the Blackbird. And he did a masterful job. I have to admit that I couldn't have done it. Soon the Blackbird was ready to power on and load the OS. I loaded Windows 7 and was ready to go. I installed Heroes of Might and Magic 6 and immediatly saw that all the graphics settings were maxed out by default. Qapla!!!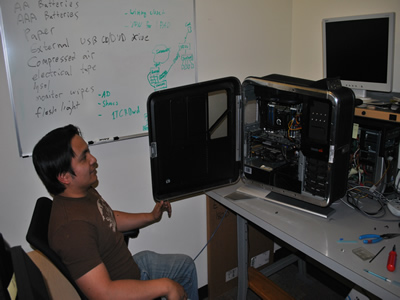 Dr Ivan inspects his handiwork
I took my system home. It took me most of the next week loading software, installing and trying out all of my games, and cleaning up the two discs from the old system. But I am totally happy with my new system. It is just awesome. It handles my 30 inch display with no problem. Total cost for the upgrade was about $2000 but I couldn't buy a new system with this performance for that amount.
But that's not quite the end of the story. Since Ivan had done so much work on my system I let him take all the original parts from it. His troubleshooting convinced him that what had failed was the northbridge. I don't know how he figured that out but it turned out that he was right. The nVidia i680 chipset is no longer available but I did some searching on eBay and found refurbished northbridge parts for $20. He ordered one and we were all waiting anxiously for it come (it had to come from China). In the meantime he bought a case and a powersupply and built himself a whole new PC with my old mobo and processor and video card. Then when the northbridge finally came he installed it over the weekend and it worked fine. Now he has a much more high powered system than previously. He was playing Call of Duty 3 whenever he could get time away from his studies.
We all lived happily ever after, with awesome rigs for gaming.