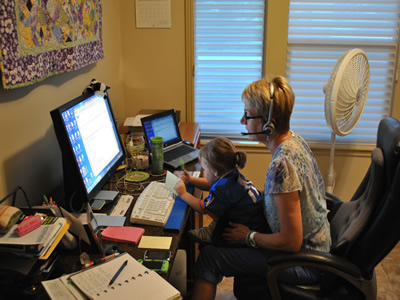 Ava helps Gramma Sandy with her phone conference
Many months ago Mickey requested a transfer to an engineer unit that was based in Germany. After several delays he and his family were finally scheduled to leave this May. I took a trip down to Killeen in April to visit them before they left. They were excited about the opportunity to live in Europe and see a different part of the world.
But of course with the army the only thing that you can count on is that you can't count on them. For some reason his transfer was delayed a whole year. Besides being a big disappointment it had another important effect. Mickey's unit was getting ready to deploy to Afghanistan. When he was just in the process of transferring out it meant he would not be going with them. Now that had changed. So he was scheduled for a deployment in June. Mickey did one deployment to Afghanistan before and his brother has done one to Iraq and one to Afghanistan. But I will never get used to it. Now Mickey was going again.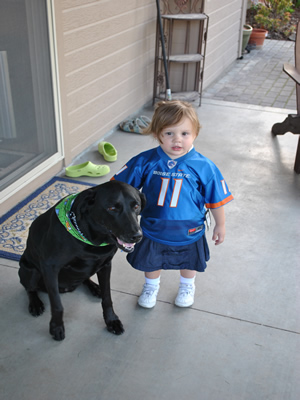 Laney and Ava - a lot of mischief in one picture
There was a silver lining to the cloud. Before deploying Mickey got a couple of weeks of leave. Sandy and I talked to them about visiting Boise. They were up for it so we sent tickets for all of them to come to visit for a week.
It was a great visit. We didn't do anything special. Several nights we went out for dinner after work. Then we would hang around in our back yard. Ava and Laney could run around and play while the grownups could sit and visit. Several nights Sandy had phone conferences at night. Ava would help her with those. Mickey and family stayed at his mom's house but since that is close they were over a lot of the time.
Mickey is a big sports fan and a BSU football fan. But for some reason he never has thought much of Kellen Moore. He was glad that he graduated so that he wouldn't hear about him all the time. But he went to play for...the Detroit Lions. Sara's family is from Michigan so ensured that Mickey will hear about him for months or years to come. To add salt to the wound, we saw a toddler size Kellen Moore jersey. Of course we bought it for Ava so that she could wear it all the time. I'll never pass up a chance to tease Mickey. Sara put it on Ava and she wore it proudly while she was visiting. Maybe I will have to look online for a Kellen Moore Detroit Lions jersey for her. Maybe even one for Mickey.
Since they were here for Mother's Day Mickey asked Sandy for one of her quilts to give to Sara as a Mother's Day present. Fortunately she had one she had just finished and Sara liked it. She didn't get to keep it long though. We have heard that not long after returning to Killeen the quilt was claimed by Ava and Daisy (their dog). Now Sandy has a request for a new quilt for Sara. But that is good as Sandy likes to have people to make quilts for. And she should have plenty of time now that she is retiring from HP.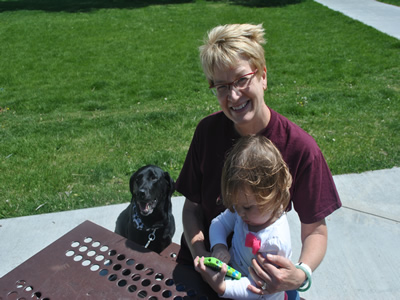 Ava, Laney and Gramma Sandy at the park
Probably our most ambitious expedition was a trip to DeMeyer Park on Saturday afternoon. There is a nice playground there and Ava enjoyed playing. Very family oriented now, my youngest son.
Ava is really well behaved for her age. But she has a lot of energy and is into everything. Nothing is safe while she is around. She only knows a few words but uses them well. One of her favorites is "Nice". When she would pet Laney she would smile and say "Nice". Or sh would pick up a toy, or find just about anything and hold it up and say "Nice". She must have seen the movie Borat too many times. Another common expression was "Guys". Once when she was put down for a nap she was quiet for a while. Then a voice came from the other room..."Guys. Hey Guys!" Definitely a cute age.
The week went really fast and it seemed before I knew it, it was time for them to head back to Texas. It was a great visit and I appreciated the chance to see Ava again. She is growing fast and changing even faster. It may be a while till our next visit. As of early June Mickey deployed to Afghanistan with his unit. He will be in Kandahar for the next nine months. I'll be anxious for the time to go fast till he can come home safely.