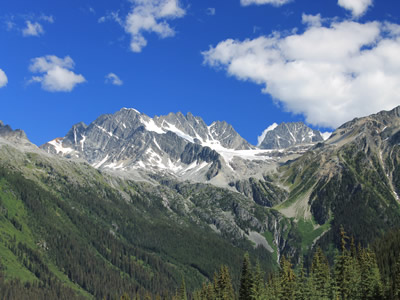 10,397 ft Rogers Peak in the Selkirk Mountains
After hiking the Lake O'Hara Alpine Circuit our week at Lake Louise was over. We had done some great hikes in the Canadian Rockies but we still had two days of our vacation left. It was time to move on. The plan was to drive over the Continental Divide and stay in Golden, B.C for the next two nights. From there we could access hikes in the interior ranges of British Columbia to the west. These mountains are wilder, with very few national parks compared to the Candadian Rockies. There are fewer trails, longer and rougher access roads and more rainy days. But ever since I had driven over Rogers Pass on my first trip to Canada I had been really impressed by the Selkirk Range. I've always wanted to hike and climb in these mountains but have never managed to do it. I have tried several times. On the trip That Sandy and I did to Canada in 2002 we stayed at the hotel right at Rogers Pass (now defunct). We spent two days looking out at the rain from our room. Always the optimist, I wanted to try again.
The weather forecast wasn't too bad. But when I checked the website for trail conditions in Glacier National Park (the one in Canada, not the one in Montana) it showed bear warnings and restrictions on virtually all of the trails. I had read that there was a significant grizzly population in Glacier but this was disappointing. I had several hikes picked out and was having a hard time deciding which one to do. Now it was moot. Our experience in the Canadian Rockies national parks was that if they had a bear warning out for a trail, that meant that there had been one or more recent sightings on that trail. After three weeks of hiking we decided that with just two of us (larger groups are safer) we didn't want to push our luck and tangle with any grizzly bears. We decided to start to head home the next day. But since we were passing through Golden on our way I at least wanted to drive up to Rogers Pass. I wanted to talk to the park wardens and see if I could get some pictures of the peaks from the highway.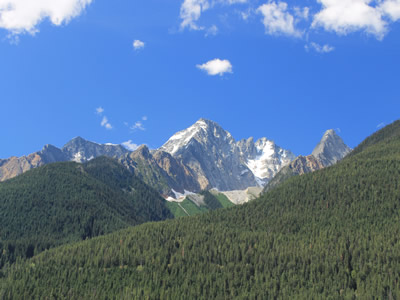 A rare beautiful day in Canada's Glacier National Park
Since we didn't expect to make it all the way home in one day we slept in and took our time the next morning. It felt good after a long, hard hike the day before. Of course since we were heading home there was a perfectly clear sky. After a leisurely breakfast we drove to Rogers Pass and stopped at the visitor center. I talked to the park warden at the information desk and asked him about bear sightings on the trails. He replied that there hadn't been any. Wait? What? The website had bear warnings for all the trails! He told me that since there are bears in the park they always put those warnings up, just so people know that there might be bears around. Argh!!! A (rare) perfect weather day in the Selkirk Range and we weren't hiking. It was almost noon - too late to start and we had cancelled our hotel reservations in Golden the evening before . I was NOT happy.
I had to settle for taking a couple of shots of the mountains from the highway as we started our long trip back. Fortunately my decades as a Milwaukee Brewers fan have taught me what to say in a situation like this. There's always next year!