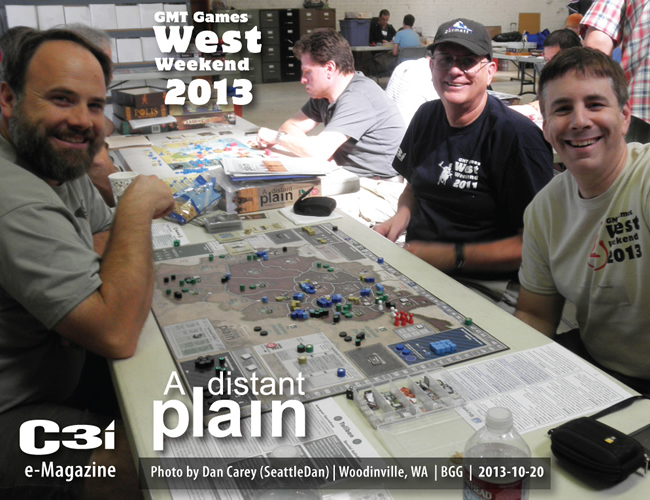 The last time I went to a GMT weekend was spring of 2011. When I started my new job at the University of Idaho shortly afterwards, I had limited time off for the first year and wasn't able to make the trip. Last year I made plans to go in the spring and the fall but both times something came up at the last minute that made me cancel out. This time I was determined to go.
It took me just under eleven hours to make the drive from Boise to Hanford, counting from pulling out of my driveway to pulling into a parking spot at the Sequoia Inn. That's about the best that I can do. I left early enough that I made it through Sacramento well before rush hour traffic jams. I only made three short stops for gas. I brought along snacks in the car so that I didn't have to stop for lunch. I beat the Google Maps time by 49 minutes.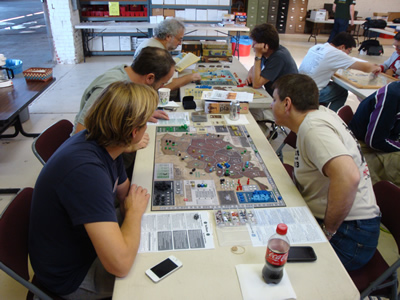 The Afghan govt tries to figure out the Coalition's last move
I had used the consimworld forum to set up a game of Andean Abyss for Thursday afternoon and a game of Clash of Giants II for Friday morning. I figured that I would leave the rest of the time open and see what I could arrange on the spot. But just as had happened to me last year, my Friday morning opponent had to cancel at the last minute and we lost one of our four players for Andean Abyss. Still I wasn't worried about getting games going.
I was there bright and early at 9:00 on Thursday morning. My opponents for Andean Abyss weren't supposed to show up till the afternoon but I still wanted to get there early. I always enjoy just wandering through the warehouse checking out all the stacks of games, thinking about which ones I want to pick up on Saturday and soaking up the energy from all those wargames.
Mike Bertucelli, the developer for Fire in the Lake, was there and had the play test version set up. I spent quite a bit of time talking to him about the game. It looks really good and I'm sure I'll be getting it as soon as it comes out. In FitL there are two closely tied insurgent factions. In the earlier COIN games the insurgent factions were at best loosely linked if not outright hostile to each other. There are also US irregulars (probably the Montagnards) and a new mechanic where each faction gets a single special card that has a big impact. The VC have "Tet Offensive", the NVA "Easter Offensive", the US "Linebacker" and the ARVN "Vietnamization". Propaganda cards have become Coup cards, with some extra mechanics associated with them.
There were two playtest games of FitL during the weekend but both times I was in the middle of games when they started. Just as well as there weren't rules available to read and I am not much of one for just sitting down and playing. Gene Billingsley joined us for quite a while during the discussion of Fire in the Lake. He is expecting it to be one of their best games ever. He said that Mark Herman had been working on a Vietnam game for a long time using the We the People/Washington's War system. But then when the COIN series started to take off, Gene suggested to Mark and to Volko Runke, the designer of Andean Abyss and A Distant Plain, that they should work together. He says that it has worked really well with Volko focusing on adapting the COIN system to Vietnam and Mark applying the cards he had already developed to the new game. I'm looking forward to playing this one when it comes out.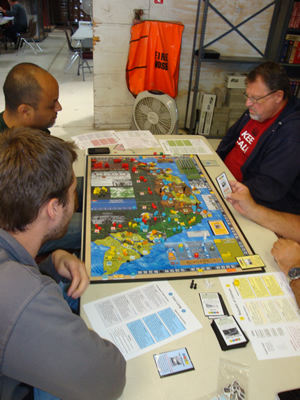 Mike Bertucelli demonstrates Fire in the Lake
I got in a lot of good games during the weekend. After the FitL discussion I played Labyrinth with Trevor Wilcox. I had beaten him at Normandy 44 at the last Consimworld Expo that I went to in 2011. He avenged that loss when his jihadists defeated my US forces. Then after a late lunch I started a game of Andean Abyss with Trevor, Jerry White and Dan Carey. I was able to pull off a win as the Government. Thursday morning was a game of A Distant Plain with Dan Carey (Afghan Govt), Lucas Brooks (Taliban) and Jason Lindsay (warlords). As the Coalition, I was lucky enough to go first on the card before the third Propaganda card. I informed my government partner that I thought he was great shape and that I was going home. I Surged out about ten units/bases to give me plenty of VP's for the win.
After a break for a late lunch/early dinner, I joined a game of 1775 with David Siskin, Dan and Lucas. I had never played before but it's a fairly easy game to pick up. It's a four player game but with two teams. Lucas and I took the Tories and British respectively against David and Dan with the Continental Army and Patriot Militia. The game only took about two hours and Lucas and I were beaten soundly. That evening we started another game of Distant Plain with Dan (Coalition), John Butterfield (Afghan Govt) and David (warlords) while I took the Taliban. The Coalition was on a roll as Dan came out with the win in this game.
Saturday morning I was there well before 8:30 am when Gene did his "state of GMT" talk. He spent about 45 minutes and gave some good insights into what's coming in the future from GMT. Then came my favorite time of all. To keep the office ladies sane, attendees are only allowed to buy stuff Saturday morning right after Gene's talk. I had spent the previous two days thinking about what I was going to get, so I didn't waste any time. What did I get? Why thank you for asking. I got one GMT game, France 40. It's a game on the French campaign of 1940 designed by Mark Simonich, one of my favorite designers. Not my favorite subject but I really like Normandy 44 and this game uses a simplifed version of the same system. I also got Napoleon Against Europe by Hexasim. This is a French wargame company which has GMT as their North American distributor. I had seen two guys playing it on Thursday and it looked beautiful. I've been getting into Napoleonics a lot more the past few years so a big strategic game on the Napoleonic Wars was an obvious choice for me. I also grabbed another Hexasim game on the Battle of Leipzig using a new Jours du Glorie operational system (I told you I was getting into Napoleonics) as well as a ziplock game from Vae Victus on Caesar's campaigns in Gaul. I made a pretty good haul.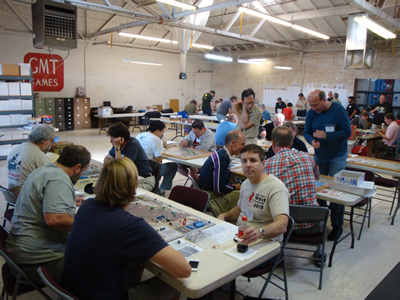 Main gaming area in the GMT warehouse
I had talked to Tim Wilcox earlier in the weekend about playing A Distant Plain so after the shopping spree we rounded up two more players for another go at the Afghan war. Tim took the Afghan government, Jason Lindsay joined again as the Coalition, Marc Guoyon-Rety played the warlords and I tried the Taliban again. This was a long game, going from about 10 in the morning till about 9 at night. On an intermediate Propaganda card Marc missed a win by a single VP. He could get his Uncontrolled Population, or his Resources, but not both. As we neared the end of the deck I was setting up for my try for a win by scattering Taliban guerillas all over the country. All I needed was one unlimited op to hit the whole country with a wave of terrorism and get all the Opposition points that I needed. But when I finally got the card that I needed (Taliban first) the Propaganda card was next. Oh no! Only a limited op. But wait. The event allowed for free terror anywhere the Taliban had underground guerillas. My wave of terrorism drove the entire country deep into opposition and I got the win. That had to be the longest game of A Distant Plain ever.
Although it was late, Marc spent an hour afterward walking me through the game that he is designing. It is called Hubris, and covers the Greek world after the death of Alexander. It is based on the Twilight Struggle system but seems quite a bit more complex. The game looks like it could be interesting.
And that was the end of probably my best wargaming event ever, at least in terms of games played. I was playing games pretty much night and day the entire three days that I was there. After that, I had a long drive home on Sunday that for some reason took me an hour longer thatn driving down (and yes, I am factoring in the time change). It was a blast and I have already made plans to attend another wargame event in Vancouver BC next month.