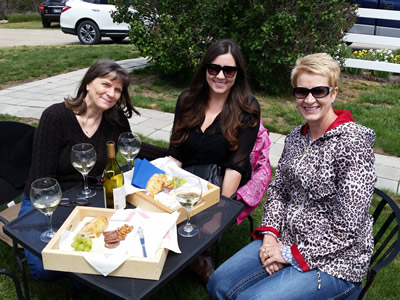 Ellen, Sarah and Sandy enjoying Mother's Day at the winery
Anyone who reads my posts on Darth Dog probably knows that when Sandy and I travel, we like to visit wineries. But Southeastern Idaho is a pretty good wine growing region in its own right and there are some nice wineries near Boise. We probably don't take advantage and visit as often as we should but we do go to Three Horse Ranch Vinyards, which is just north of Boise in the foothills. Sandy really likes their wines and one, Vivacious, which is a Roussanne and Viognier blend, is one of Sandy's favorites.
Last year they had a special event where they offered snack trays and a special chocolate decadence cake from a local restaurant, Bella Aquilla. We went to that and Sandy really enjoyed it. When she saw in the winery newsletter a few weeks ago that they were offering it again, she said we should mark it down. That is what she wanted to do for Mother's Day this year. Since it is Mother's Day it's her call so I was good with the plan. Not to mention that I like Three Horse Ranch wine too.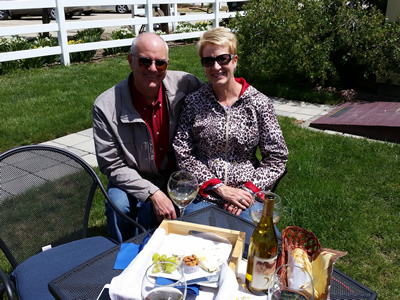 I got to enjoy the Mother's Day party too
Sandy mentioned it to two friends of ours, Ellen and Sarah, and when they expressed interest we invited them along. We drove out together into the foothills. It was Ellen and Sarah's first visit to the winery although they like Three Horse Ranch wines as well (they are easy to find in local stores). Yesterday was a cool and rainy day but the weather improved for Mother's Day. It was bright and sunny with some nice white fluffy clouds and warmed up into the mid-sixties. It was quite windy but when we got to the winery it wasn't bad at all. That is probably not too surprising. The reason that particular mini valley was chosen for a vinyard is probably because it is quite sheltered. There were about half a dozen cars there, which is a lot for when we visit Three Horse Ranch, but we found a table on the patio in the sun. We ordered two snack trays with cheese, fruit, fresh bread and sausage. Of course we ordered a bottle of Vivacious too (we ended up drinking two bottles by the time we left). It was a really nice afternoon and a fun way to spend Mother's Day. The chocolate decadence cake at the end was a perfect way to cap it off. Everyone had a good time.