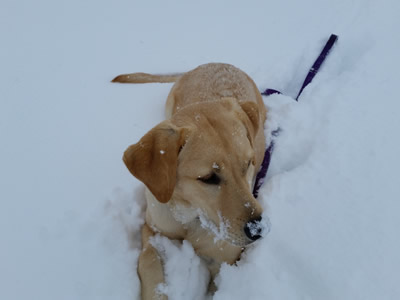 Hey Abby! - How come you have snow on your face?
Last week I had good weather for traveling to and from the BottosCon wargame convention in Vancouver, BC. I got rained on crossing the Cascades on the way there and had a bright sunny day coming home. Good weather for the Cascades in November. But this week it made up for it. It started to snow shortly after I got to work on Thursday and just kept going. I shoveled Thursday night before going to bed. I set my alarm a half hour early and shoveled first thing Friday morning. Driving to work still looked challenging, so after talking to Eric and Ivan I decided we would stay home. Not long afterwards I got the word that the university was officially closed. A snow day two weeks before Thanksgiving. I had never seen that in my thirty five years in Idaho.
Normally a Friday off would have been just the start of a long weekend. But Sandy was booked to fly back to the midwest for a visit home. She tried calling for a cab but was told the wait was three hours. That didn't inspire confidence. So being a Good Husband, I volunteered to drive her to the airport, even though I hate driving in heavy snow. Although conditions were bad, we made it. Normally twenty minutes each way, it took forty minutes to get there and an hour to get home. But I made it.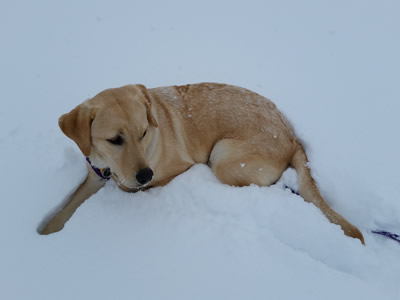 Not cold even when lying in the snow
Then it was time to take Abby for a walk. Traveling on foot in heavy snow is much easier than driving. Of course Abby was anxious to go. We did our normal circuit of the YMCA. There were tracks on the walkway around the fields, but on the far side I just cut across the big field. There was six to eight inches of snow. Abby loved it. The cold and snow didn't bother her a bit. Our tough girl romped and played in the snow. It was about thirty degrees with no wind. With her heavy coat, the weather was probably perfect for Abby. She ran around. She stuck her nose in the snow. She ate snow.
Bottom line was that she had a really good time. This week was the first time that Abby had ever seen snow. She definitely had a blast.