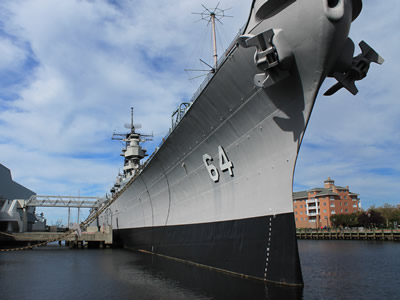 BB64 docked next to the Nauticus museum in Norfolk
Sunday had been a great day exploring the historical sites near Williamsburg. We had one more day left before heading home so we decided to do some more history. The battleship USS Wisconsin is permanently docked in the Elizabeth River in downtown Norfolk, next to the Nauticus maritime museum. We decided to start by touring the battleship and the museum and then to check out the large downtown mall only a few blocks away.
The day before we had fantastic good luck. We visited the Yorktown battlefield on the anniversary of the British surrender. Today our luck evened out - the museum (and therefore the ship tours) were closed on Mondays. We figured we would still go down and take a look. It's kind of hard to hide a battleship, even if we couldn't go through it.
We parked at the MacArthur Center, named for Douglas MacArthur, who is buried in the old city hall building a block from the mall. After some good pastries for breakfast in the mall we walked the six blocks to the river to see the USS Wisconsin. It is definitely an impressive ship, almost a thousand feet long and over a hundred feet wide. It's main armament was nine 16 inch guns. Each one is 66 feet long, weighs 300,000 lbs, and could fire a 2500 lb shell twenty four miles. The Wisconsin was launched in 1943 and served in various wars before being retired in 1991 after the First Gulf War.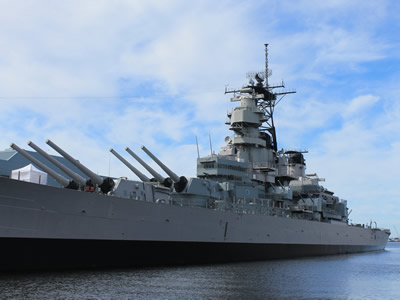 A big ship with BIG guns
After lunch at Firehouse Subs we spent the afternoon at the mall. Sandy wanted to do some shopping. Fine with me - they had a Barnes & Noble. I didn't even get through the whole store. I picked out one book, The Accidental Universe, an interesting combination of physics and philosophy (although I didn't agree with his views on epistomology).
Then it was back to our hotel for a light dinner and a quiet evening. Next day we flew back to Boise. It was a fun weekend with nice walks along the beach and a chance to explore some fascinating history.