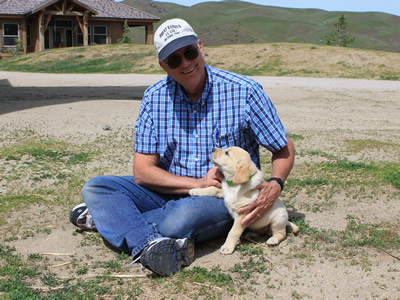 Are you really going to take me hiking? When can we go?
Two weeks ago we went to the dog breeder and bought a puppy. She was a yellow lab and we named her Abby. She wasn't quite ready to come home yet though. Besides, we had a lot of travel in late May and early June so we made arrangements for the people to keep her until we would be home for an extended time. But we were both very excited about getting a new dog. The breeder put a special collar on her to keep track of which puppy was ours. One day she sent us pictures of all the puppies in the litter playing with the kids who live there.
Since we are going to leave soon for a two week trip to South America soon, we wanted a chance to go and visit Abby before we left. She was going to be gone soon - the family was taking a trip to Eastern Idaho and were taking her along. So today was the last chance for us to make a visit. Since I had some comp time coming for working in the evening, I took off from work at 1:30. I picked up Sandy and we drove out to Horseshoe Bend to visit the ranch.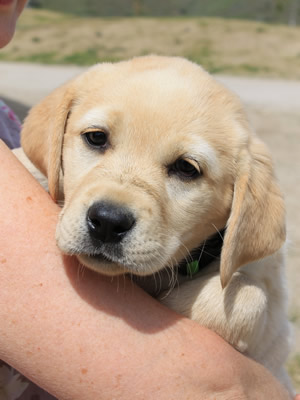 A cute puppy but I see mischief in those eyes.
It was pretty much the same as our last visit. There was a board propped on a barrel blocking the driveway so we parked outside. Two of the grownup dogs came out and barked at us but it they weren't very scary. We called them over and they ran over to be petted. The puppies were in the barn just like last time. Some were sleeping. Some were scampering about, usually climbing over their siblings who were sleeping and stepping on their heads. This time there was a huge bowl of dog food and one or more of the puppies was usually in it eating. One puppy was off in the corner peeing in the straw. Eat, sleep, pee. That's about all there is to life when you are a two month old puppy.
We spent a while just watching the puppies. The older dogs, especially one (Elle I think) kept wanting to be petted. That dog was a real people dog. We took Abby out into the yard to take some pictures. We followed her around the barn and took pictures. She probably decided that we were a real nuisance. After all, she was interested in eat, sleep, pee. She seems like a very mellow dog. I think she is really going to fit well in our family. But I also saw some mischief. She climbed into the food bowl (not enought just to eat the food). She was chewing on the bowl. She was digging in the dirt. She could be a bit of a troublemaker. I was kidding Sandy, asking how long it would take her to teach our new puppy that her name was "Abby! No!". Probably not very long. We are already thinking very hard about how we are going to puppy-proof our house.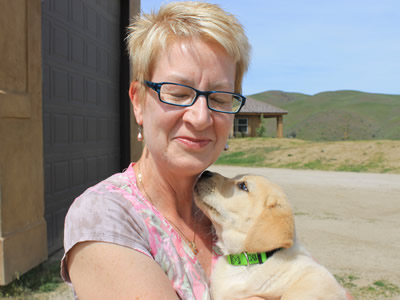 Abby gives Sandy a sloppy kiss
Just by coincidence one of my colleagues at work just got a yellow lab puppy just two days ago. She has a daughter who is three years old and puppy and kid are getting along just fine. Every kid should have a puppy. Every puppy should have a kid. They named their dog Della and she is almost the same age as Abby to the day. We are already planning a play date sometime in June after we get Abby.
In a week we are leaving for South America for a bucket-list trip to the Andes and Machu Pichhu. I am definitely looking forward to that and not hoping to hurry through it. But I am looking forward to when we get back and can bring Abby home. I am definitely a dog person. It will be good to have a dog around the house again. I am thinking of many hikes that Abby and I can take in the mountains.
I still really miss Laney and always will. But I think that she would be pleased to know that soon there will be another lab to look after her humans. She knows that we need it.