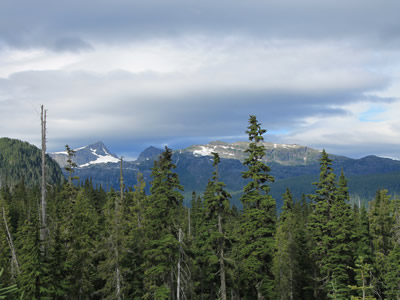 Mt. Albert Edward and Mt. Regan from Paradise Meadows
Our next hike was in Strathcona Provincial Park again. This time we were staying in the town of Courtenay. From there, a road goes to the Mt. Washington ski area which is just outside the southeast corner of the park. Our original plan was to hike to the summit of Mt. Becher, which would allow us to see deep into the interior of the park. But our luck with the weather ran out. A weak front came through overnight and we woke up to cloudy skies. It didn't look very threatening but we wouldn't get great pictures. We also didn't want to challenge the mountain gods by doing a summit. On the plus side, it was cooler for hiking. We changed our plans and decided to do a hike to a series of lakes from the Paradise Meadows trailhead. It took us only half an hour to drive to the start, on a nice paved road. Since I am not a skier, nice access roads are the only benefit that I get from ski areas.
There are several loop trail options from Paradise Meadows. There is a very short loop for people who aren't really hikers. We picked an intermediate loop, eight kilometers long and visiting two major lakes. It was mostly flat trail (hard to believe) so it would be an easy and pleasant hike, even if the weather wasn't that great.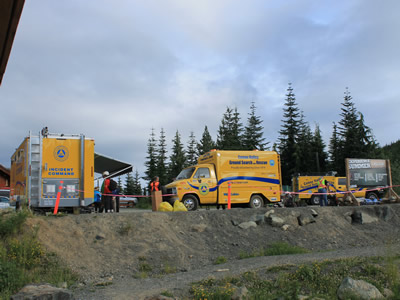 Search and rescue workers trying to find a missing hiker
When we reached the trailhead we were surprised to see lots of activity. There were several Search and Rescue vehicles, about twenty people and even two helicopters flying in and out. A 68 year old woman from Courtenay, who was a very experienced hiker, was on a five day backpacking trip and had failed to return. Nearly 200 SAR volunteers were participating in the search. She was last seen near a peak 20 kilometers from the trailhead by two other hikers, so the helicopters were shuttling searchers in and out of the back country to look for her. As of the time of writing this (about a week later) the search was just called off without finding her. It is quite mysterious as her campsite was found, her backpack was found where she left it to go farther, and even her poles and camera were found further up the mountain. But there was no sign of the hiker. A very sad case but sometimes things happen in the mountains. Statistically you are still safer there than driving to the grocery store.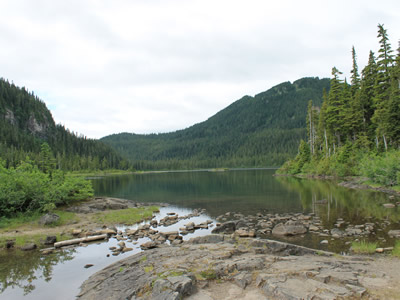 Lake Helen MacKenzie
Our hike was straightforward. It took us about two hours. We went by Lake Helen MacKenzie, which was very large, Battleship Lake, and a number of smaller lakes and ponds. Although the lakes were pretty, they were in the woods and really didn't give views of the big peaks in the heart of the park. To see those you had to hike a lot further, not worth the effort on a cloudy day when pictures would be unimpressive. Still it was a pleasant walk and it always feels good to stretch our legs, especially when the walking is easy and not an epic uphill slog.
After the hike we headed back to Courtenay. We had gotten our spell of good weather when we had first arrived and had gotten some good hikes in. Now the weather had deteriorated - we were in British Columbia after all. It wasn't a major problem as we had already started back down the island. We had identified lots of things to do that weren't dependent on the weather, like touring wineries and quilt shops. After our hike we drove back to Courtenay. We had lunch at Boston Pizza, a chain that is all over Canada. It seemed like a strange place to us because they were more of a sports pub than a pizza place but it didn't matter since our lunch was good. With our strength renewed by food, it was time to go shopping.