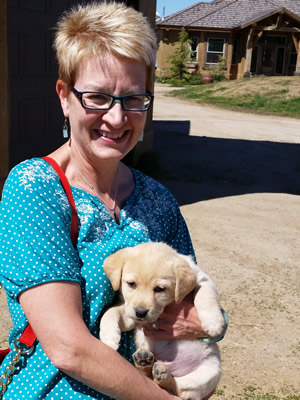 Sandy and Abby get to know each other
When we lost Laney people asked us if we were going to get another dog. Our answer was always, not for a while. It didn't seem right to replace her as soon as possible with a "generic dog unit". But it has been five months so we have started to talk about getting a new dog. We decided that we would get another lab. Not a black lab. We don't want another dog just like Laney. But either a chocolate lab or yellow lab would be good. Sandy wanted a puppy and that was fine with me. The timing was pretty obvious. We have a lot of travel coming up in the next three months. We are going to Peru to hike the Inca Trail to Macchu Pichhu at the end of May. Sandy is going to the Midwest for a conference and family visit in June. And I am taking off the month of July so that we can do a long trip to the North Cascades and Vancouver Island. When we were finished with our travel in August looked like the perfect time to start to try to find a new dog.
Sandy told me that she had found a breeder nearby that had yellow labs. Ok. And that they had just had a litter of puppies. Hmm? And that the lady would keep one of the puppies till Sandy got back from her midwest trip. Oh, oh! We had a talk about the practicality of it and after discussion, we both agreed that waiting until August would be more sensible. There will always be puppies. Then I came home the next day and found out that Sandy had made an appointment to go visit the puppies at the breeder. I told her that we both knew that if she went to look at them it was all over. She still wanted to make the trip. Ok, then I'm going too. I had a half day off coming for covering last Saturday at work. So this afternoon we went to visit the breeder.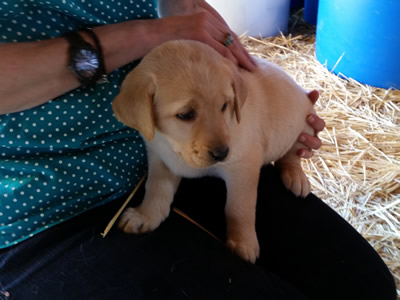 Abby doesn't look too sure about us
We went to visit BoulderCrest Ranch. It was way up in the mountains, past Horseshoe Bend, past Gardena. A perfect place for dogs. They have four adult yellow labs, one male and three females. They had the nine puppies in their outbuilding. They were mostly sleeping, one on top of the other, just a big pile of puppies. The grownup dogs were very friendly and wanted lots of attention. Occasionally one of the puppies would come over to see us to be petted. It was pretty clear that we were getting a puppy. We just had to pick one out. One of the girls who lived at the ranch said that we should take her favorite. That way she could keep her for an extra month. That seemed ok to us so we had her pick out the puppy. Sandy held her and we decided that she would be our new dog. Her name is Abby. We are going to pick her up in about six weeks. I'm trying to figure out how our summer travel plans are going to change but it is going to be fun.
Our family has a new member.