Do you guys seriously expect me to wear this?
Once upon a time we dressed up our black lab, Laney, to be Darth Vader for Halloween. She was such a good Darth Dog that I even ended up owning the domain darthdog.com and use Darth Dog as my internet nom de guerre.
This Halloween Sandy thought that she would get a costume for Abby. I wasn't too sure about the idea. Laney was very patient when we put the costume on her. But she wasn't fussy about wearing things. She always had a colored scarf on. Sandy used to make lots of them for her. If it came off, Laney would actually bring it to us to put back on. She seemed to appreciate the attention that she got when she was wearing it.
Abby is very different. I think we only tried to get her to wear a scarf once. As soon as we put it on her she started trying to grab the ends of the scarf. She would keep pulling at it until she got it to come off. We would put it back on. It turned into a test of will between her and us.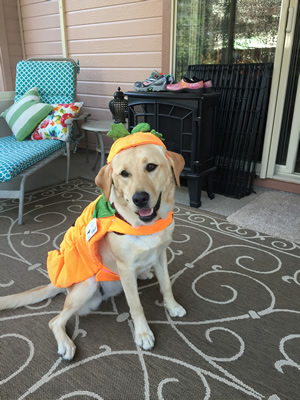 Abby as The Great Pumpkin
And it wasn't even close. We thought that after a while she would get tired of fighting it and just ignore it. Nope. We were the ones who gave up. So Sandy doesn't make scarves for Abby and hasn't tried to put one on her since that day. We have accepted the fact that Abby is more of a Tomboy.
With that history, I was dubious about Sandy being able to get her to wear a Halloween costume. But while I was out of town for GMT weekend, Sandy got one for her. She tried it on and Abby didn't seem to be bothered by it.
There wasn't an obvious choice for Abby like Darth Dog. It turns out that Sandy just bought the dog costume that she could find in the largest size. So Abby ended up dressing as a pumpkin for Halloween.
We put it on her about 5 pm, before the first Trick-or-Treaters came. She was surprisingly patient. She didn't make any fuss at all. Even the hat, which didn't fit well. It kept sliding down and had to be constantly readjusted. But she just ignored it.
We had a busy Halloween night. There was a steady stream of kids from a little after five oclock till well after nine. For a while I left the main door open and Abby would stand behind the glass door watching everything that was going on. Of course she barked at everyone. When I handed out candy I always had to keep my leg in the gap in the door so she couldn't get outside.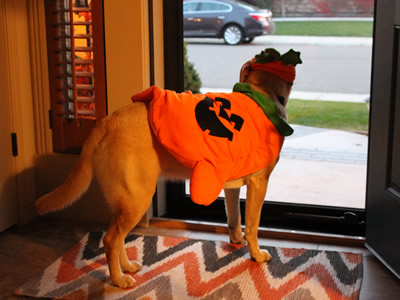 Abby keeps an eye out for Trick-or-Treaters
She always had to poke her head out of the door to see what was going on. I would have thought that her barking would scare kids but they all commented on how "cute" and "adorable" she was. Everyone wanted to pet her. The one time she did get out I thought the grownups waiting at the sidewalk were going to climb a tree to get away until I finally got her back inside the house. But the little kids were fearless. None of them were afraid of her and all of them wanted to pet her.
Of course, in the spirit of the holiday, I made sure that Abby got a lot of doggie treats throughout the evening. So even with the costume, between the treats and all the activity, I think Abby thought that Halloween was a lot of fun.