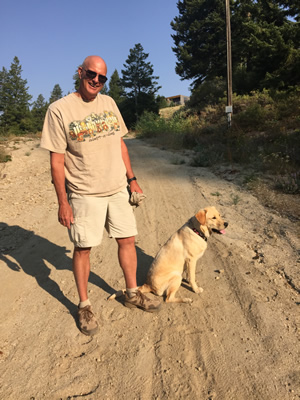 Abby and I heading to the Upper Lodge
When I got back from my hiking trip to the Sierras I had to go back to work. My month off was over - all good things come to an end. I still took Abby up to hike at Bogus Basin again on the weekend. We did a different combination of trails to traverse the mountain and Abby really enjoyed being in the mountains again.
I did notice one thing that was intriging. There was a sign at the lodge for the Bogus Creek Grill, saying that it was open during the summer for lunch and dinner on weekends. When we got home I suggested that she come along next time and that we could have lunch up there after our hike. I thought that Sandy would enjoy seeing how well Abby did up in the mountains and how much fun she had.
Next Sunday we did exactly that. We started at the Lower Lodge. It was a very warm day so we didn't even take packs. I didn't take my DSLR camera either so we only had Sandy's iPhone. But it had served us well on our Europe trip and that way I was in the pictures for a change.
We hiked up service roads to the Upper Lodge, then took the trail up the west ridge to the top. We did a traverse towards Deer Point and came down from the saddle for a traverse of Schafer Butte. As usual Abby was well behaved and had an absoultue blast. Afterwards we had lunch at the Bogus Creek Grill. It was more like a cafeteria than a restaurant, but it was nice to eat our lunch on picnic tables outside the lodge. Abby managed to score quite a few french fries. With food in her tummy and tired from running up and down the mountain, she slept all the way home in the back seat.
Another beautiful day and we had a lot of fun.