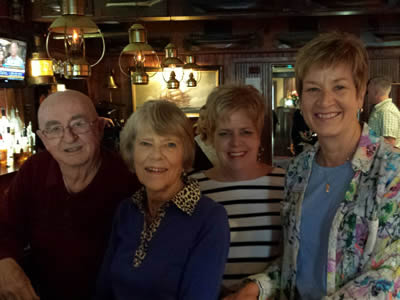 The Lawry clan in the bar before dinner
NOTE: This spring and summer were very busy, as well as very eventful for me. I got way behind with posting on the Dog Blog. I am going to try to catch up, and as I do I will post events in chronological order. Some of them were a while ago but I will write what I remember.
There were lots of things that Sandy and I wanted to do this spring and summer. So after spring break, we spent some time planning to figure out what what I would do, what she would do and we would do together. One thing she wanted was for me to go back with her to the Midwest for a visit with her family. We had some possibilities but settled on going back for her mom's eightieth birthday. It turned out that the timing also worked out for me to visit my family in Milwaukee on the same visit.
Her mom's eightieth birthday party was indeed a special occasion. Actually, anyone's eightieth birthday party is a special occasion. Sandy and I came from Idaho. Lynn and Dan were there, as well as Colleen and Devin. And Shannon and her boyfriend Jimmie came up from Chicago. The whole gang was there.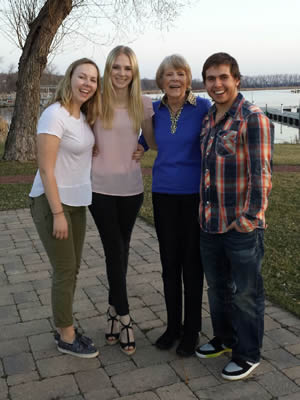 Gramma Janice and all the grandkids
We had a special dinner to celebrate. We went to Mariner's, right on the shore of Lake Mendota, that is known for it's steaks and seafood as well as it's lakeside views. While we waited for everyone to get there, we started with drinks in the bar while we watched the Brewers losing another game . Then we moved to our own private dining room in the back, with one wall all glass with a nice view of the lake. Before dinner we had a chance to take some photos of various combinations of people with the Birthday Girl to commemorate the occasion. The meal was excellent and it was overall a really nice evening. The guest of honor looked great and she and everyone had a great time.
The rest of the weekend the main activity was watching Brewer games on tv, something that Sandy and I can't do in Boise. They lost all of them that we saw. It was a very poor start to what has turned out to be a very poor season. It was very nostalgic for me. When I was in college in the early seventies, my brother and I would go to Brewer games all the time, getting cheap seats in the bleachers (they cost $1.25). They had just moved to Milwaukee and had a terrible team, but it was still fun to go. Now that I'm older, somehow it wasn't as much fun watching them lose all the time. But it was fun to see and visit with family.
After the weekend it was time for me to leave Madison and head for Milwaukee. Sandy gave me a ride to the airport where I rented a car to drive to Milwaukee while she stayed in Madison for the week.