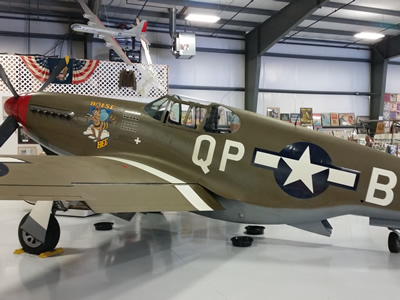 A P51C in flying condition with the markings of the Boise Bee
When the Finley Family came to visit us this summer the main goal was to go to the mountains for a few days. But there were some days that we spent in town and they wanted to see what Boise had to offer. Since Dan is a history buff, I took him to the Warhawk Air Museum at the Nampa Airport. Colleen and Devin came along to check it out.
The main attraction are their airplanes. They have three WWII fighter planes that have been restored and are in flying condition. Aircraft from that era that can still fly are quite rare.
They have a P40E Kitty Hawk. This airplane was flown by the US Army Air Force at the beginning of the war. It really wasn't a match for the Japanese Zero, which put American pilots at a real disadvantage. The airplane that the museum owns was used in the filming of several movies including Pearl Harbor.
They also have a P40N Warhawk. The two P40's were the original airplanes when the museum was started, which is where it got it's name.
There is also a P51C which is in flying condition. It has the markings of the Boise Bee, a P51 flown in WWII by Duane Beeson, a Boise native. He was one of the top American aces in the European theater, with twenty confirmed kills. Although he survived the war, sadly he died in 1947 of brain tumor. He was only 25 years old.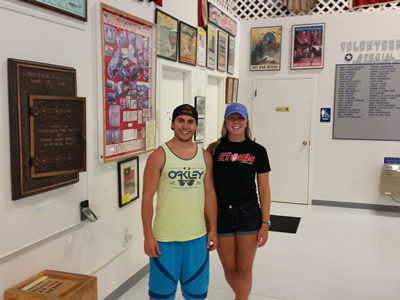 Devin and Colleen checking out the museum exhibits
The P51 is probably my all-time favorite airplane. Compared to other WWII-era airplanes, there are still quite a few that are flying and they frequently featured in airshows. Still, it's always exciting for me when I get to see one. I would like to go back in August when they have a warbird fly in scheduled. It will be awesome to see those incredible airplanes in the air. They represent some amazing history.
The museum had a number of static displays, restored aircraft that looked just like new but were not in flying condition. They had a German Fokker DR1 (WWI), an American F4F Wildcat (WWII), an American F86 Saber (Korea), an American Huey gunship helicopter (Vietnam), a Chinese Mig 21 (Vietnam) and an American F104 Starfighter (Cold War).
Besides the aircraft, there were a lot of displays of military and aviation memorabilia. WWII was the most represented but some of the displays went back to WWI. There were also displays from Korea, Vietnam and the Cold War. We spent about two hours there and everyone seemed to really enjoy it.