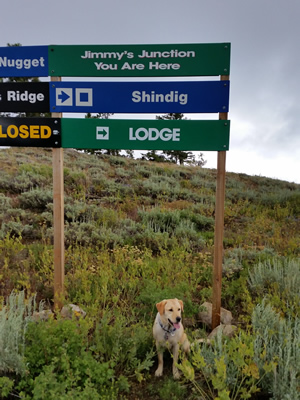 Abby at Jimmy's Junction
Bogus Basin is the local hiking area where I go when I don't want to go far, but want to get up in the mountains. It's about an hour drive from our house. Abby and I took Shannon and Jimmy there near the end of their visit to Boise. They had already been to the Sawtooths and we wanted something close by. It would also be a chance for Jimmy to check out the local ski area, since he is more of a winter sports guy then me.
We were supposed to meet Sandy for lunch so we did the standard short hike up Shafer Butte from the upper lodge, going up the road on the back side. I was surprised to see a bulldozer on top. The old equipment shed that had been on the highest point had been torn down and most of the higherst point had been flattened. We talked to the guy driving the bulldozer for a while and he explained that a new, large microwave tower was going in. He said that he had left a small area with the highest point, where the USGS survey marker was, the way it had been.
On the way down we took the face trail. As usual I cut down to soon and we had to bushwack for a short distance. One of these days I will learn to go far enough. But it was a nice hike and Shannon and Jimmy were impressed by the far off view of the Sawtooths where we had hiked a few days before.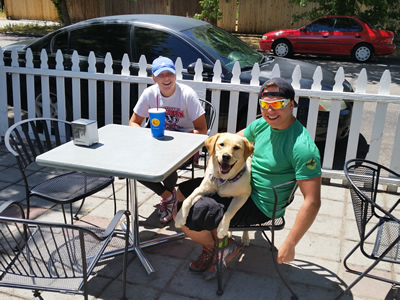 Our post-hike lunch at Westside Drive In
The following week, Abby and I were back at Bogus with Colleen and Devin. This time we had no time constraints so we started from the lower lodge. Although it was nice in the valley, there were clouds forming over the mountain. It created some interesting views of the valley, with us nearly in the clouds on top while the valley was in bright sunshine. There were no views of the Sawtooths this time, only clouds. But I was impressed at how many wildflowers there were for so late in the season. We all enjoyed the hike.
Afterwards we were all hungry so we stopped for lunch. The Westside Drive In is on the way home, has great food, and has a lot of patio seating that is dog friendly. So that was our choice. I had my standard grilled cheese sandwich, and yes, I shared some with Abby. We got one monster large order of french fries that was enough for all of us. Another good hiking day and a good prelude to the big mountains for Colleen and Devin.
When I took Abby to the vet the next weekend, strangely enough she had gained a few pounds.