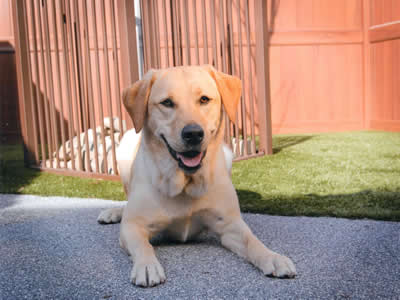 Abby's 2016 school picture
Everyone remembers school pictures. Once a year you would have to get all dressed up to have your picture taken. I hated them. I didn't like dressing up. I didn't want to smile. The bright lights hurt my eyes. But then some magic happened. Every year my parents would get my picture and it would show a neat, well-dressed, well-behaved, happy, smiling kid. How could that be me?
It was the same when I became a parent. Once a year we would have to dress the kids up. And once a year there would be a picture and it would be hard to believe that it was the same kid.
But eventually all the kids grew up and I thought that School Picture Day was behind me.
Well, I was wrong. Abby goes to Escape the Crate, aka Doggie Day Care, about once a week. This gives Sandy a break so she can do things around the house, run errands, or just rest. When she is out of town, I take Abby in a couple of times so that she doesn't have to stay at home all day by herself. So she is a regular. And they had a photographer come in to take professional shots of all the dogs. Sandy of course wanted one. So here it is. And what do you know. Abby is smiling. She looks clean. Her hair isn't even messed up. She is even holding still! Yes, it's hard to believe that the dog in the picture is the troublemaker that we know and love.