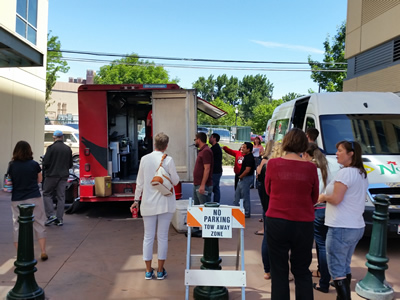 Waiting in line in the alley to order lunch from Burgerlicious
After twenty eight years at Hewlett Packard, I took early retirement in 2005. After five years as a house hubby, including several years in Singapore, I went back to work at the University of Idaho in 2010. But at the beginning of this year Sandy left the U of I and retired (again). We checked finances and it looked like I could retire too. So when my contract expired, I didn't renew it. On June 17th, I had my last day at the U of I. During my time there I had a lot of fun, learned a lot, and met a lot of wonderful people.
Two of my colleagues, Stephanie Fox and Liz Ridgway, arranged a nice lunchtime send off party for me on my last day. The Burgerlicious truck came and set up in the alley between the buildings. The food was good but it was very late. By the time truck arrived the natives were restless and Stephanie was really mad at the guy. I'm glad I wasn't him!
There were quite a few people from the Boise Center at the party and it was a nice chance to say goodbye. My boss, Mike Satz said some really nice things about me, as did a lot of my colleagues and the guys on the IT team. Good thing that I don't blush easily. Anyway, I really appreciated everyone coming to wish me well. While I am looking forward to retirement, I will miss a lot of the good folks at U of I in Boise.