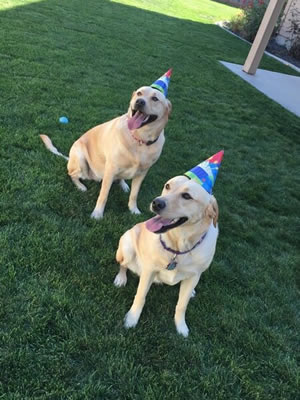 The girls wear their party hats
Abby's sister, who we call Big Abby, turned three years old this past Wednesday, August 31. Melissa, Big Abby's mom, invited our Abby to come over to celebrate. Since they only live a few houses away, Sandy walked over with her. As always, as soon as they turned towards her sister's house, Abby got very excited. The two of them love to play together.
Sandy said that they had a nice doggie birthday party. The girls had birthday party hats, which they were patient enough to wear while the humans took pictures. They had special treats which Melissa had made, beef jerkey frozen in ice. Kind of a special doggie popsicle. Wouldn't be my favorite but then I'm not a dog. Both of the Abbies devoured them.
Sandy bought a Fluff and Tuff ball as a present for Big Abby. It is Little Abby's favorite ball toy, and for some reason, it is the only stuffed toy that she ever has received that she hasn't ripped to shreds withing half an hour of getting it. Big Abby seemed to really like her Fluff and Tuff too.
And of course, the girls played in the yard for a long time. They love to chase each other, wrestle, play tug with their toys, and trash talk each other. All in all, a fun doggie birthday party. When she got home, Abby went to lie down and take a nap. She was obviously worn out by all the festivities.