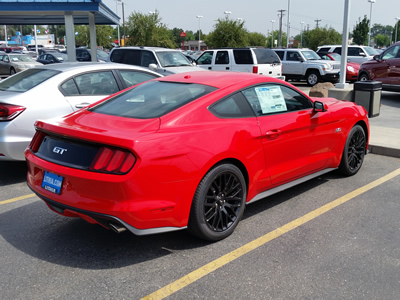 Sandy had her eye on a race red Mustang GT on the dealer lot
I'm not that interested in cars. I drive a Ford Escape and that's fine for me. For every day use it gets me around and it's small enough that it handles well. My only special requirement is that it has higher clearance so that I can drive on rough roads, which is often neccessary to reach trailheads on my hiking trips.
Sandy has always liked sporty cars and is especially fond of Ford Mustangs. Over the past fifteen years she has owned several of them. But she is also practical, and Mustangs aren't the most practical car. It doesn't drive well in snow, or haul much cargo. So for Sandy it has always been an extra car, just for fun. Usually she has owned a Ford Explorer, or Escape or Edge for everyday driving, and a Mustang just for fun. Hey, when you have a tough job like VP at Hewlett Packard, you deserve to have a few toys. Her original custom license plate for her first Mustang was WLDRYD (for "Wild Ride"). When she gave her 25th anniversary edition mustang to Tim for his college graduation the license plate went with it. After that, she had WLDRYD2 and has kept that plate through more than one Mustang.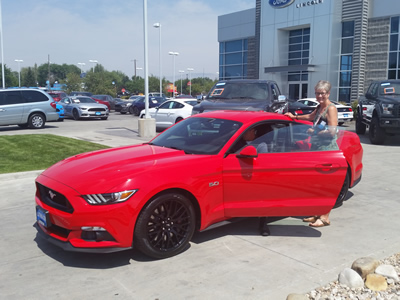 Sandy's ready to hop in and drive it
But we are old retired folks now. Just before Sandy left the University of Idaho she went through an analysis to reduce our living costs. One tough decision that she made was to go down to a single car. She traded in both her Mustang and her Edge and got a new Escape. Her license plate still read "Wild Ride" but it was a bit of a stretch on an Escape.
When I finally retired in June, I celebrated with a week-long trip to Consimworld Expo to play wargames. While I was there, Sandy mentioned one day on the phone that she had seen a part-time job posted at the U of I for part of her old job. She had been both the director of the Engineering Management Program and a full time Assistant Professor. When she left her job was broken up and distributed among several people, with part of it becoming a new part-time instructor position for teaching Engineering Management classes. She said that she had a crazy idea to apply for (part of) her old job. Since she had already developed the classes, she figured that the job wouldn't be to difficult. The instructor role, since the classes were all taught remotely, gave her a lot of flexibility. And she pointed out that this way she would get health insurance coverage for us. Since we had just paid for a couple of months of COBRA coverage when I left, that was certainly a big deal. From a practical standpoint it did indeed seem like a good idea.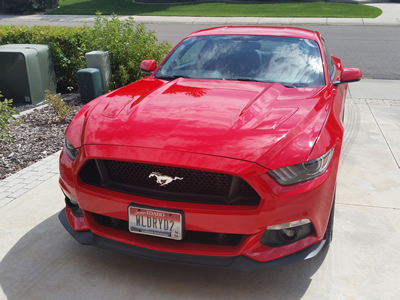 License plates are switched and WLDRYD is in her new home
When I got back home, over time another motivation gradually emerged. Sandy thought that as long as she was working again, it would be ok for her to have a Mustang again. So for the next six weeks I got just about daily updates on what Mustangs were in stock at all of the Ford dealers in the area. She looked at colors. She debated getting a GT vs Ecoboost. She went back and forth on this one until Shannon's boyfriend Jimmy suggested that "She might like the Ecoboost better. It doesn't ride as rough as the GT." That was all she needed to hear to decide to get a GT. "I'm not an old gramma!"
By this weekend she was pretty sure of what she wanted. It was time to go and look at some cars and take a test drive. Of course, that was like taking a kid to the pet store to "see if they would like a puppy". Two hours later Sandy was home with her new Mustang.
After taking pictures to commemorate the occasion (and to post on Facebook and Instagram), she went to the DMV to get her plates switched. She got new, boring plates for the Escape. Her WLDRYD2 plates were back on a Mustang, where they belonged.
When she took me for a ride in her new car, Sandy tried out the awesome stereo with some appropriate music.