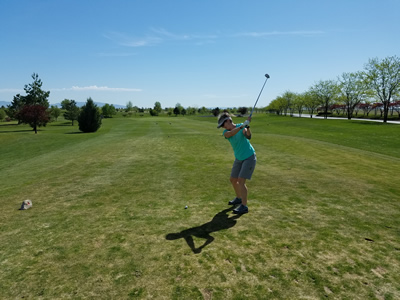 Sandy lets the Big Dog eat
Sandy and I finally got a chance to play golf last month. It was the first time this season that we were able to play. We played at the executive course at Falcon Crest. It's only $13 for nine holes when we walk so it's become our default course. It's a good deal for us old retired folks.
Sandy is a good golfer. Years ago she used to play in league twice a week. I used to joke that she kept me around so that she had someone to watch Shannon while she went golfing. We have also played a lot together over the years. We have even gone to golf schools together several times, although our golfing really fell off after we came back from Singapore a few years ago. We still try to get out and play every few weeks, but our travel and other activities tend to get in the way.
As I said, Sandy is a good golfer. We even play from the same tees. In all those times that we played, I never beat her. Till this time. Usually when I am ahead I manage to blow it at the end, so even though I thought I was winning I didn't ask her the score till we had both finished. I had a 41 to her 42.