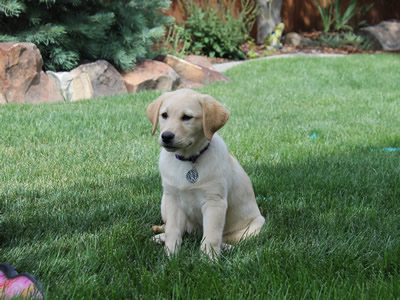 There's nothing cuter than a yellow lab puppy
Today is the third anniversary of the day that we brought Abby home. Usually we would have brought her home when she was three months old, but since we had a lot of travel planned, including a long trip to Peru, we asked the breeder to keep her an extra month till we got back.
Sandy and I were excited to have a dog in the house again. We fussed over her and played with her and took lots of pictures. She was adorable. There is nothing cuter than a yellow lab puppy.
It was a lot of work too. Shannon came out to visit us for a week, to meet Abby and to help for the first few days. Kind of the inverse of gramma flying out to help with a new baby. Sandy had to sleep downstairs with Abby for several nights because she couldn't get up the stairs. Sandy kept her company and also kept an eye on her until she was house broken.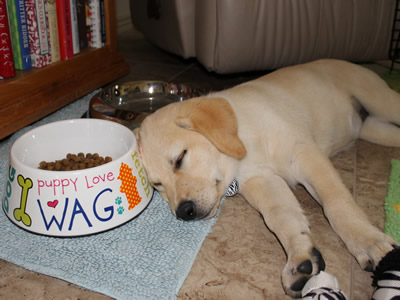 A tired puppy on the day we brought her home
Abby was a cute puppy but she had a lot of energy. She wasn't a bad dog but she got into a lot of mischief. She chewed on anything and everything. She wrecked clothes, shoes, wargame pieces, sewing projects, furniture. She even chewed on the walls. I never could quite figure out what went through her head when she looked at a blank wall and thought "that looks like something to eat". She was difficult. She couldn't be left alone for a second or she would find something to destroy. I admit that by Christmas I was about ready to throw her out.
But at around nine months old she settled down. Now she is a grown up dog. She still gets into trouble sometimes, but basically she is a really good dog. She is a great friend and companion. I take her for walks every day, usually two or three times. When people ask me what I do with all my time now that I am retired, I tell them that I take my dog for walks.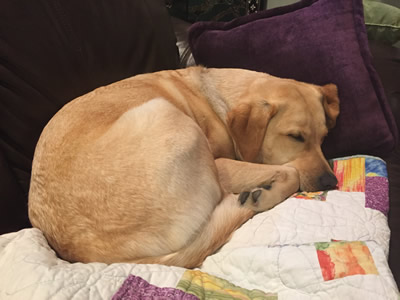 All grown up now but she still sleeps like a little angel
Last week when I had oral surgery I came home groggy from the drugs and just fell into bed and slept. Abby knew that I wasn't feeling well and stayed on the bed all afternoon with me. She didn't sleep or even lie down. Sandy said she just sat on the bed watching me. My very own therapy dog.
But the most important thing about Abby is that she can always make me smile. It doesn't matter if I am mad or sad or tired. Both Sandy and I are glad that she came to live with us. Our lives would be a lot more boring without her.