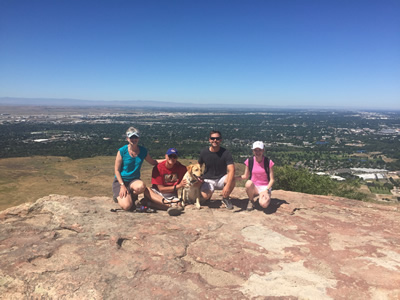 The whole extended pack on top of Table Rock
This year we had special guests for Father's Day. Shannon and her boyfriend Jimmy arrived yesterday for a week-long visit. Today we decided to hike up to Table Rock. We hadn't been up there since the fire last year and we wanted to see how well the area had recovered. And Jimmy had never been up there.
Before we left I got my Father's Day presents. I got a gift certificate from Amazon from Shannon. I already have some books and videos picked out to get with it. I got a cool Teddy the Dog tshirt from Abby, as well as some cool dog pawprint boxers. And I got some wargames from Sandy: Triumph and Tradgedy, Verdun and Colonial Twilight! Plus the computer version of Terra Mystica. Quite a haul.
Then it was off to Table Rock. Good news at the trail head. There are bathrooms there now. Us old folks usually like to go just before we start to make sure that we can do the whole hike. Sandy was happy.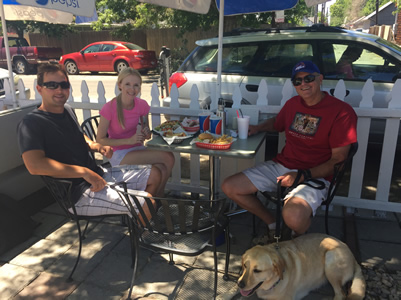 Lunch after hiking at the West Side Drive In
There was very little damage left from the burn. There was some burned sagebrush near the top but other than that the area had pretty much recovered. It was amazing. I expected it to be much worse.
We hiked up to the top and found a comfortable spot to sit and enjoy the view. Then Jimmy pulled his drone out of his backpack and launced it. I'm not much of a drone fan. They can be obnoxious. But this one was very quiet. It was cool to see the video feed from above us.
Before heading down we hiked along the top of the cliffs where I used to rock climb years ago. I found the one spot where you can scramble down and Jimmy and I went down and then climbed back up. Then we hiked back to the car.
On the way home we stopped at West Side Drive In for lunch. I was limited to a shake and fries because of my oral surgery but it was still good. Everyone enjoyed their lunch.
A good hike on a beautiful day makes for a good Father's Day.