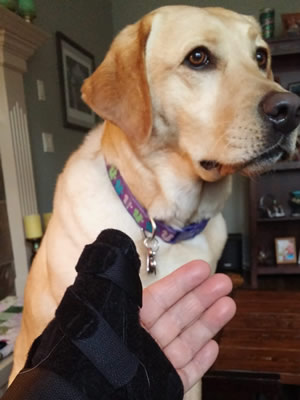 I don't see anything on your wrist
When we are gone on a long trip, our friend Janet stays at our house with Abby. That works well as we get both a dog sitter and a house sitter. She has her own dog, a Chiweenie named Toby, who comes along with her. He's a rescue dog who is a little nervous around other dogs, but he and Abby get along well. In fact, Toby loves coming over to our house and staying with Abby. Once during this trip, Janet was going out to run some errands. She didn't want to leave Abby and Toby alone together while she was gone so she was going to take Toby with her. But Toby ran and hid so he could stay with Abby. The two of them have become great pals.
Janet takes both of the dogs out for walks together. I take Abby out for walks every day when I am home and usually Abby is no problem. She behaves well and walks right along with me. She is very friendly with people and other dogs. But there are a few things that can get her very excited. One of those is skate boards. I don't know why but when someone goes by on a skateboard Abby changes from dog-who-is-everyone's-friend to killer wolf. She growls and barks and lunges at them like she wants to rip them apart. Maybe it's the noise they make. Maybe she thinks it looks wrong. Maybe she thinks that she has to protect the person from the skateboard. It's a mystery. Who knows what goes on in that brain of hers?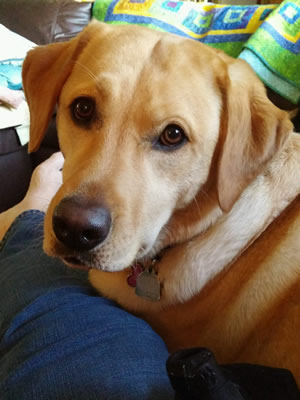 Friends again - sitting on her lap
On the second day of our New Zealand trip, Sandy got a text message. Janet had taken the dogs out for a walk. Two kids on skateboards were coming towards them and since Janet knew that skateboards can make Abby go crazy, she pulled the dogs off to the side. She made Abby sit and wrapped the leash around her wrist. When the kids went by Abby lost it and lunged at them, barking and growling. She probably scared the kids to death. Even worse, she yanked so hard on the leash that she hurt Janet's wrist. When they got home, Janet called another of our friends, Mary Beth, who came over to keep an eye on Abby. Janet went to Urgent Care to have her wrist checked out. It wasn't clear if the wrist was broken or sprained but it was badly swollen so they put a soft cast on it.
We both felt really badly about what had happened. Sandy was worried that Janet might not want to stay with Abby anymore, but she said she said that she understood that Abby really didn't mean it. Toby really liked to stay with Abby at our house so Abby got a second chance. Abby just wouldn't be able to go out for walks. Since Abby can get restless when she doesn't get any activity, we made arrangements for Abby to go to Escape a few afternoons. It's our doggie daycare place where Abby gets to play with lots of other dogs. We usually take her there when the weather is bad and she can't get out for a walk. She's always tired when she comes home.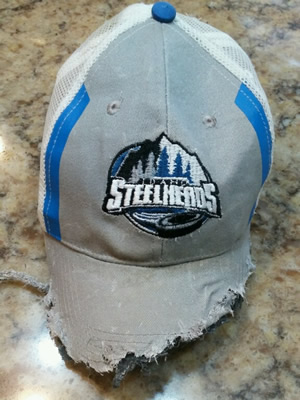 My hat with Abby's modifications
Fortunately when Janet went back to the doctor it turned out that the wrist wasn't broken. That was good news. It has healed up so all ended well. But Sandy was pretty anxious on the day that it happened. Text messages were flying back and forth and around the world until everything was settled. She had some choice names for Abby as well.
Abby wasn't quite through with causing trouble while we were on this trip. A few days later we got a text and photo from Janet. Abby had gotten one of my baseball caps and completely chewed up the brim. The cap was a goner. Janet was worried that I would be upset but I didn't care. I have a lot of baseball caps and this was an old one. I mainly wore it when I worked outside. So it was no great loss.
Abby is a great dog and we are really glad that she came to live with us. But she showed that even though she isn't a puppy anymore, she is still capable of causing lots of mischief. You never know what she is going to come up with next. Who knows what goes on in that brain of hers?