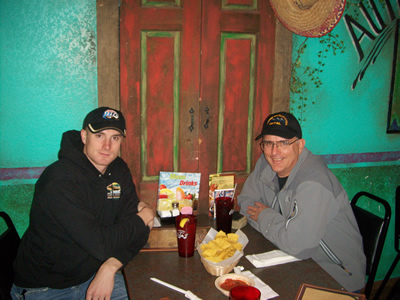 Tim and I out for Mexican in Clarksville
Last Christmas we had relatives come to visit us in Singapore for a tropical holiday. This year it was our turn to travel back to the US. Although we made several stops, my first visit was to see my Number One Son, Tim. He is a lieutenant in the US Army serving with the 101st Airborne Division. He just returned from a tour of duty in Iraq and now is based at Ft. Campbell, Kentucky.
I flew into Nashville, Tennessee which is about forty miles from the base. Tim drove up to pick me up. Although the weather in Kentucky/Tennessee is milder than in Wisconsin, the morning I flew in there had been freezing rain overnight. Tim's Mustang is a beautiful car, but Mustangs are notoriously bad on slippery roads. Still he made it to the airport early in the morning. We had a slow drive back due to the poor road conditions. This was compounded when we got stuck dead still for about half an hour on the freeway while an accident was cleared. When we finally got moving we saw it and it was spectacular. A semi had jack knifed, spun around, and slid up a hill into an overpass. Fortunately it looked like no one was hurt. Quite a mess though. We don't have those problems in Singapore.
On the way to his house we stopped at a local winery. They had a nice Sauvignon Blanc and even a Viognier. I got a bottle of each but then decided later that I couldn't pack them carefully enough to get home. Tim and I were forced to drink them. Good thing that we both have a strong sense of duty.
Tim lives in Clarkesville, Tennessee which is just outside of the base. He is renting a house which he shares with another soldier at the base. Tim had just had a good friend visit him the previous week so he was all set up for a guest. I got my own room and he had an excellent blow up mattress for sleeping. He was on a crusade to lower his heating bill so he had the temperature in the house set to about fifty degrees. Fortuately I had brought a very warm sweatshirt along which I wore inside the whole time I was there.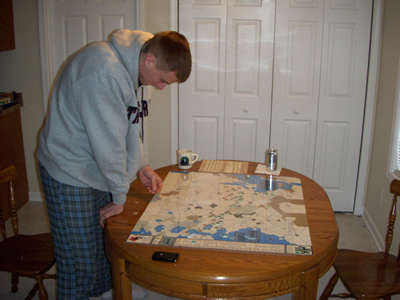 Field Marshal Zhukov studies the situation in Russian Campaign
We had lunch at a good brew pub in downtown Clarksville and I resisted buying their tshirt. We spent the afternoon visiting body shops. While his roommate was on vacation in Mexico Tim had borrowed his jeep and dinged the side on the garage door. So he was making it right. After two tries we found a place that fit Tim's budget requirements and we dropped the jeep off there.
For the next two days of my visit we played wargames. Tim is an avid wargamer - he takes after his old man. For Christmas I got him a copy of Hannibal: Rome vs Carthage from eBay. An out of print (twice) wargame, I had played it a lot since moving to Singapore and knew he would like it. Plus the Second Punic War is a favorite period of history for both of us. We played two games, me as the Carthaginians and Tim as the Romans, and split. Then it was on to our other favorite wargame subject with a game of Russian Campaign. We went to a craft store and I introduced Tim to the clear plastic sheet method for holding down the game board. For years we had struggled to keep mapsheets flat but I finally learned how to solve that one in Singapore. We played RC for a solid day and a half and got about half way through the war. Although the Germans (me) couldn't deliver a knockout punch, they had penetrated deep into Russia and it wasn't clear if Tim could push them back to Berlin in time to win. Unfortunately we would have needed about one more day to finish the game and find out. It still was a lot of fun though.
Tim's roommate came back while I was there so I got to meet him. He played Rock Band on the Xbox 360 while Tim and I did this strange board wargame thing. We hit most of the interesting restaurants in Clarksville - it's not that big a town. And I got to visit the PX on the base to look for tshirts.
I had an early morning flight out of Nashville so Tim dropped me off at the airport at 6 am. When I checked in it turned out that my flight had been cancelled because of a blizzard in St. Louis (where I transferred to my flight to Madison). I was rebooked on a flight that left Nashville at 8 pm. Oh boy, fourteen hours in an airport. Well I had two books with me so I found a comfortable spot and read. Every three hours there was a flight to O'Hare so I went and tried to get on standby. I finally got on a flight that left at 2 pm and got to Madison about 6 pm. Only about eight hours late. It could have been worse though and I did get to read a lot.
It was still a great trip though. I hadn't seen Tim in a year and a half since he had visited Singapore. It was fun to see his new place and playing wargames and hanging out with him was fun.