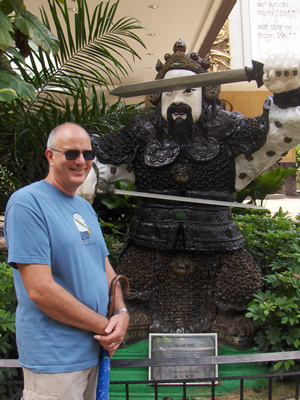 Steve must trust the dude with the swords
Saturday it rained, again, but it dried out enough for the three of us to head to the Singapore Botanic Gardens. This is a huge park, most of which is free but there is a world class National Orchid Garden which IMHO is a Singapore must see. There is a S$5 fee but that is quite a deal. The orchids are fabulous and we spent quite a few hours there. I took over 150 pictures of flowers! This will come in very handy during the art quilt class I'm taking in November.
We didn't come close to finishing off the park. We managed to get through the Orchid Garden and most of the west side of the park, but the east side would have to wait for another trip.
We also ate breakfast at the park. There is a very nice little cafe near the entrance by the car parks that serves a good eggs benedict at a reasonable price.
After the exertion of the morning, we lazed around Saturday afternoon...it was nap time for me, Steve was working on his computer, and Sandy was working on a quilt.
Saturday night we decided to go with Italian for dinner. Sandy and Steve took me to a place, Pizzeria Giardino, in the CHIJMES shopping mall that is normally very quiet, but for some strange reason there was a flamenco dance festival being held in the courtyard where the restaurant was! The pizza that Sandy and I shared was excellent though and it was interesting seeing folks learning to flamenco dance in Singapore!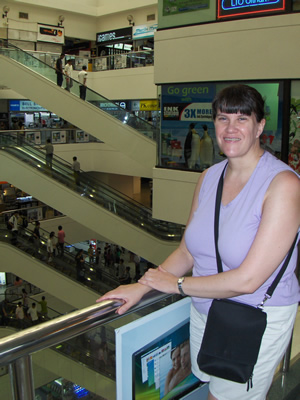 MBA tours Sim Lim Square
Sunday was bright and sunny. Steve and I headed to a hawker stall for lunch at Newton Circus. I wanted to try Singapore chili crab and it was very good but expensive and super messy and resulted in a mess on my shirt :-) We then headed to Vivo City where we could actually see the Singapore harbor and Sentosa Island. We then headed back home after that as I wanted to get in some pool time before I left. Sandy and I hung out at the pool for a little while and after that we cleaned up and headed for Boat Quay for dinner.
Boat Quay is interesting, especially if you're not used to people asking you to try their restaurant for dinner. We ended up at Pasta Fresca which was very good. We started with bruschetta and then I had seafood risotto which was excellent. There was prawns, mussels, clams and squid in the risotto and all were excellent. This all was washed down by the ubiquitous Tiger Beer.
It's my last night in Singapore so it's time to wrap up this post and start to pack. This trip has been great. Steve, Sandy, and Shannon are wonderful hosts, and Singapore itself is a great city with very friendly people. I'm sure I'll be back to see even more of Singapore at some point in the future.