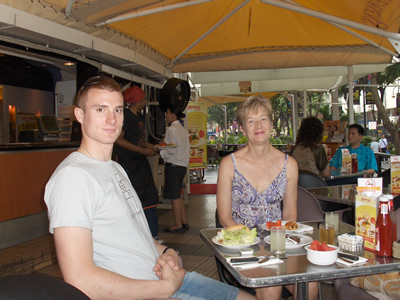 Sunday morning breakfast at Swenson's
We had a one week break after Sandy's parents left. Then our next visitor arrived. Tim came for a visit, right after his graduation from the University of Idaho and his commissioning as a second lieutenant in the US Army. Both of these required four years of hard work. I'll provide some pictures from those events in a later post.
Tim made the trip ok and said he hardly slept on the flight over. But he crashed pretty quickly once we got home.
I started out Saturday to give him the standard tour of Orchard Road and the area around our apartment. Sandy was still a little weak from getting sick in India early in the week, and Shannon was busy studying for her finals which start soon. So Tim and I spent most of the day just wandering around Orchard Road. We had lunch at the Hard Rock Cafe - the pulled pork sandwich is one of my favorites and big enough that even Tim wasn't hungry anymore. We took the mandatory picture at Lucky Plaza that I take of everyone who visits. We wandered through all the big malls like Takashimaya and Wisma Atria. I even tried my best to confuse him taking him through all the tunnels beneath Orchard Road and Scotts Road.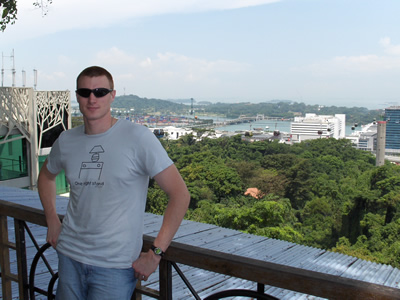 View from the top of Mt. Faber
After a nap Tim was still feeling strong, so we took the MRT down to Boat Quay. He had his first Tiger Beer there. We ate at an Asian seafood restaurant. That was adventurous for me, as I have been sticking to Western food since I got here. We tried to get into the brew pub down past Clarke Quay but it was just too crowded. The area near the river is always mobbed on Saturday night.
On Sunday morning Tim, Sandy and I went for a long walk in the back neighborhoods around our apartment. We ended up down on Orchard Road and had breakfast at Swenson's. This was a favorite of ours because they have patio seating right on Orchard Road. It's a great place to watch the mobs of people there. We had stopped going for a while because of their quirky service (some people always got their food way after the others) but this time we had no problems.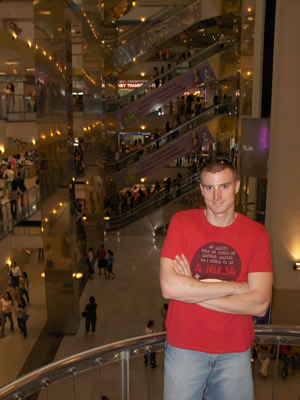 The required photo at Lucky Plaza
After breakfast, Sandy headed back to meet up with Shannon for some shopping. Since it was a nice day, Tim and I took the MRT down to Harbor Front with the idea of hiking up Mt. Faber. The hill is in a park and is the highest point on Singapore island. Not that big a deal, as it is a whopping 345 feet above sea level. But when we came out we walked almost a mile from the MRT station and couldn't find any way up the hill. So finally we gave up and went back. Sure enough, if we had turned the other way coming out of the MRT station, the trail was less than 100 yards away. So up we went.
Even though the trail was in the shade, it was very steep (all stairs really) and was very hot. By the time we got to the top of the ridge we were both soaked in sweat. The views to the south to Sentosa Island and the straits were really nice. At the top of the hill is a cable car station and a restaurant and shop. We sat and had cold cokes and admired the view sitting in the shade and enjoying the nice breeze. Because we hade walked up we were way sweatier and scuzzier than all of the other tourists who had taken the cable car or the bus up, but who cares?
Sunday night all of us went to Modesto's, an Italian restaurant which is Shannon's favorite. Tim got a chance to sample a different beer and took the bottle home with him. He may be planning to acquire a bottle collection to take back with him to the US. More weight than I would carry!