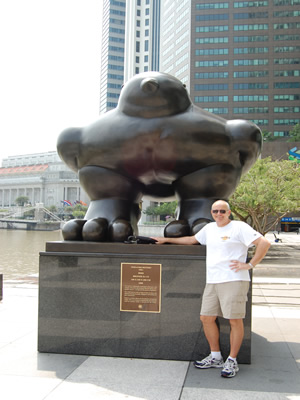 No - I was not the model for this statue
Mary Beth FINALLY came to Singapore for a visit. She had tried to work out a visit in conjunction with a work trip to Singapore for HP. It looked like she had one set up when the latest travel freeze clobbered that plan. So she just decided to get her own ticket. It really worked out better that way as she had more time here and could just relax and enjoy Singapore (translation for non-travelers - drink more Tiger beer). Her boss did suggest that "since she was in Singapore anyway" she could do some work too. I think her response was nonviolent but unprintable.
The monsoon came late this year so we had a rainy March. But I told MB that the weather had finally changed and we weren't getting much rain anymore. So of course the very first morning when Sandy, MB and I went out for breakfast at the Marriott on Orchard Road it started to pour while we were eating. There went my cred as an "expert guide". We tried to wait it out but I had a Wargames Meetup that afternoon, so eventually we had to head home. We hadn't taken umbrellas but fortuanately we were able to buy three of them at Lucky Plaza before we had to go out into the rain. If you go out unprotected in a real Singapore rain shower you will be soaked from head-to-foot in seconds. If you have an umbrealla you can usually make it almost half way home before you are totally drenched. A very useful device to have here.
She did neglect to mention her souvenir shopping in her posts. One of the big advantages to booking Steve's Guide Service is that I took her to all the best places to shop for souvenirs. She did find some things to buy as (top secret) gifts at Lucky Plaza. I even took her to the two best places in Singapore to buy tshirts - the Hard Rock Cafe and BrewWerkz. And she didn't buy any tshirts! I don't know what the problem was. She said that there weren't any "cute" tshirts. Hey, I have lots of tshirts and none of them are cute. I'm not sure what part of "Been there, did that, got the tshirt" she didn't understand. She must be an international travel noob.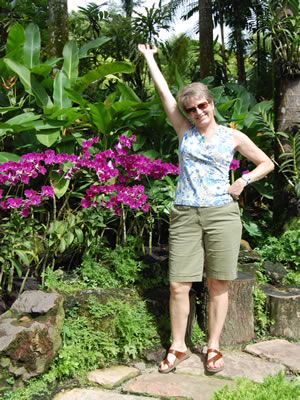 We couldn't get MB to do a BAM!
I was a little nervous when we went to the Night Safari. I had sold it as being quite impressive. It lived up to the billing. We just happened to get there and through the gates as the first animal show of the evening was getting ready to start. Since the theater is next to the entrance, we just walked right in and didn't have to wait at all. We were way off to the side which wasn't ideal for watching the show, but it did have an advantage. At one point one of the bird handlers moved into the audience (kind of quiet and sneaky so no one saw him) and then used a silent call. He happened to be standing exactly behind MB and me. So this huge owl on stage suddenly takes off and flies right at us and zooms just over our heads to land on the trainers arm. It was an incredible view of large bird in flight, REALLY close up. I'm glad he had his landing gear up or I might have lost some of the little remaining hair I have. Awesome.
I had also made a big deal of seeing the lions at night, so we went there after the show. Exactly according to script, as we were walking along the paths getting close to the lion viewpoint, we could hear one of the lions roaring. And when we got to the viewpoint this big male obliged us by standing up on a large boulder and giving out a long roar. It is especially impressive in the Night Safari setting and in the dark.
A new animal for me was the Flying Fox. It is really a bat but it has a huge wing span. I am used to seeing small bats flying around so fast that you can barely see them. This thing was big and slow. It was in a (very large) enclosure, but flew near the window very slowly for quite a while as it was having a meal of the fruit left out for it. Pretty cool.
It was a really good visit. I had a lot of fun. I always enjoy having a chance to show visitors around Singapore. Our only company this year so far. Might be our only company all year although I am hoping that my sister and nephew will make it here for a visit in August.