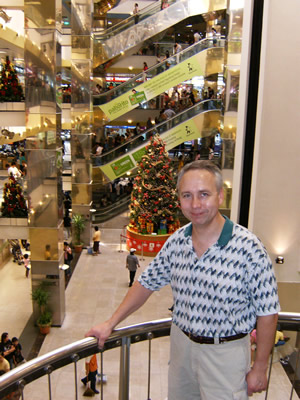 Dan at, where else, Lucky Plaza
It's been quite a while since we have had visitors. But the Finley's must have gotten tired of all the snow and ice and cold and decided to spend Christmas in the tropics. Although it was the first international trip for all of them, they survived the long flight here. I think after the harsh winter in Wisconsin this year they are really enjoying the warm weather here. It has been really nice for the last week or so - a little cooler than usual and not as humid.
We did our customary tour of Orchard Road for their first day. The kids disappeared right away. Shannon, Devin and Colleen took off to go see a movie. Sandy took Lynn to her massage lady. It must have been a good massage - Lynn finally had to tell the lady to go easy because it really hurt! No pain, no gain I guess. Dan and I explored Lucky Plaza he shopped for a new watch for one of his Christmas presents. After that, we walked down to Tanglin Shopping Centre to meet the ladies. Since we got there early, we just had to stop at Jerry's so Dan could try a Tiger beer while we were waiting. Then when Lynn and Sandy joined us it started to rain - a pretty good tropical shower. There was nothing for it but to stay for another round. Good thing it was Happy Hour.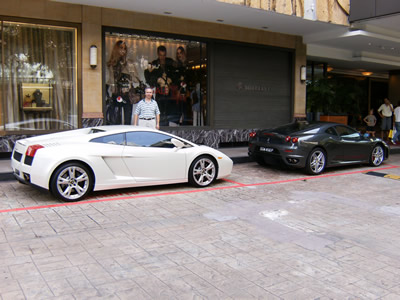 Dan - and a million dollars worth of cars
While we were walking along Orchard Road I told Dan how impressed Mickey had been with some of the hot sports cars around Singapore. Back then there was someone with a Lamborghini who lived in our building who used to park right next to us. And one time Mickey and I had seen four Lamborghini's parked in front of the Hilton Hotel. Sure enough. When we walked by there was a Lamborghini with a Ferrari right in front of it. There was also a Maserati and a Porsche Turbo Carrera. I can't imagine turning my Ferrari over to the concierge!
Today was nice and sunny so everyone but me went to the zoo. It sounded like everyone had a good time and Dan took lots of pictures. I will try to get Lynn and Dan to write up something on their zoo visit. It finally rained in the afternoon, but let up just in time for us to all walk down to Modesto's, one of our favorite restaurants. On the way there the police suddenly stopped traffic and there was a short parade with about half a dozen lighted Christmas floats. The walk back was really spectacular. Orchard Road is decorated with lights all the way from Tanglin Mall to the end of Bras Basah Road. That's several miles. There are icicle-type lights hung across the road every 50 feet. All of the trees along the side of Orchard Road have lights in them. There are a number of special Christmas displays along the way. And that doesn't even count the decorations on the stores and shopping centres. Along the stretch in front of Paragon and Takashimaya there are all sorts of groups out playing music and singing Christmas songs: high school bands, church groups, buskers. Except for the Chinese New Year parade last year, I have never seen so many people on Orchard Road. It was a solid mass of people all the way from Scotts Road to Bideford (and beyond, but we turned off to go home). Even the underpasses had buskers playing Christmas music. Under Scotts Road was a string quintet with four violins and a cello playing Pachelbel Canon - and they were good. There were Salvation Army bell ringers everywhere on the street. People were wearing Santa hats. And every ten feet someone was taking a picture of the decorations (I think Christmas is still a pretty new thing here). As Sandy would say - it was really hopping!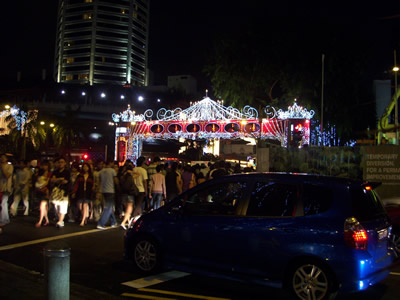 Christmas decorations at Orchard and Scotts Road
I always thought Christmas in the tropics would seem weird, but it is actually really cool here. We saw a Chinese Santa Claus in front of Tanglin Shopping Centre yesterday. A bit overdressed for the heat but he was pretty merry. All in all it does seem like Christmas, although when a group sang "Let it Snow" THAT seemed a little weird.
Merry Christmas
Shèngdàn Kuàilè Xinnián Kuàilè
Selamat Hari Natal
Nathar Puthu Varuda Valthukkal