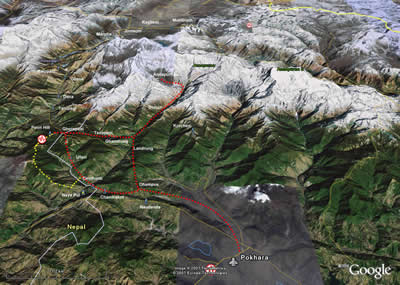 Satellite photo with standard route (red) and my route (yellow)
The photo on the left is an actual satellite photo of the Annapurna region of Nepal. The standard trekking route to the Annapurna Sanctuary is marked in red. I have marked the approximate route of the variation that I did on my trek in blue, rejoining the standard route at Poon Hill near Ghorapani. Click on the photo to check out the full size version. The satellite photo gives you a good idea of the actual terrain I traveled on my trek. Trekkers travel by car to near the village of Nayapul and start walking from there. The village of Birethanti is less than two hours hike from the start. Remember that the scale on the satellite photo is huge.
I took over 800 pictures on my trip. Even though I included nearly a hundred photos in my eleven previous posts on Nepal, I still had some photos that I thought were worth sharing. So this page is just a (very large) gallery of additional pictures from my trip. They are in chronological order but unlike my other posts there is just a minimal label rather than a long winded text to go with it. (Thank God! I hear some of you say.) Of course you can still always click on the picture to see the full size version.