On a small street just behind the busy river area
I get around Singapore a lot by walking. And when I do I like to explore. Even when I know the easiest or the shortest way to get somewhere, I will often take a different route just to explore. Sometimes I find interesting things. Sometimes I find ways to connect with places in the city that I wouldn't have expected to. Since the streets of the city curve all over and change names often, it is quite different than navigating around a north american city with it's regular, rectangular grid. And sometimes I just get stuck and find out that I "can't get there from here" and have to turn around, retrace my steps, and go back the usual way.
Last week I went to Chinatown and decided to walk home a different way. I came across an old temple on a small street just behind the busy areas of Clarke Quay and Riverside Point on the Singapore River. The temple is called Po Chiak Keng temple and is over a hundred and thirty years old. For Singapore, that's old. The city has been here for less than 200 years. And with all the economic growth and the lack of space, old buildings are quickly knocked down to make room for new construction.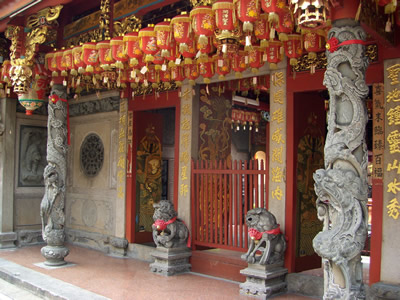 The entrance is guarded by a pair of Singapore Lions
The temple has several names. It is known as Po Chiak Keng temple. The name comes from a school that was inside of the temple. It's also the name on the Singapore street directory where I looked it up. But it is also known as the Tan Seng Haw temple or the Tan Si Chong Su temple because it was built as a temple for the Tan clan (members of the Tan family) who lived in Singapore in the late nineteenth century. It was built alongside the river, which is where the original port facilities for Singapore were located. It is also just outside the current Chinatown area, and many Chinese who came to Singapore at that time lived nearby. I was surprised to learn that it been built right on the river and facing it, because today the river is over a block away and in a different direction. Apparently there was an island in the river at that point so land was filled in and the course of the river was changed some time ago. Now the river is several hundred meters away.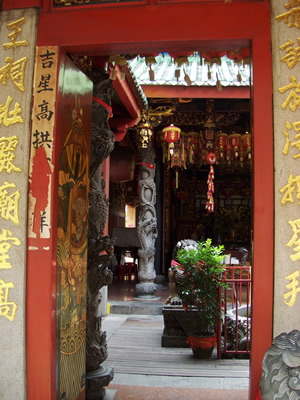 Peeking in at the inner courtyard
Although I have been reading and studying, I am still confused by Chinese religion. There is Buddhism, Daoism, ancestor worship, and all kinds of combinations of the three. Usually a few elements from Hinduism and Christianity are sprinkled in as well. The focus at this temple was the veneration of the ancestors of the Tan clan.
It used to be a very busy temple, but deteriorated after the Japanese occupation in World War II. It was designated a historic site by the Singapore government in the 1970's. Significant restoration work was done during the 1990's. Although small the temple is very pretty and very ornately decorated. It's not very busy though. While I was there no one else was around. But there were signs of life - incense and some candles were burning. And it seemed very quiet and peaceful inside only a block from the traffic of the Central Expressway.
It was an interesting find and I spent some time there looking around. I paid for it though. After I came out of the temple and was crossing a bridge over the Singapore River I looked back and saw the CBD completely covered in rain showers (which was only half a mile away). I dashed for cover and barely made it before the typical Singapore torrential downpour reached me. I was stuck at Liang Court (right next to Clarke Quay) for over an hour and a half before the rain finally stopped. But hey, they have a bookstore there and I ended up with a couple of new books. So it wasn't so bad after all.
If you are interested in more about the temple you can check out the Wikipedia article or the Singapore National Library article, even if they aren't as well written or interesting as this blog post.