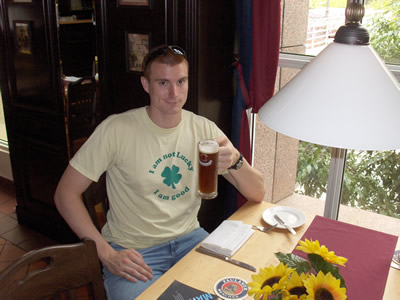 A German brauhaus in Asia. Go figure.
Sandy and I are wine drinkers, but Tim has become somewhat of a beer connoisseur. So while we are pretty happy when we go out to drink Tiger beer, the local brew in Singapore, Tim was interested in microbreweries and brew pubs. There is one place on the Singapore River at Riverside Point called the Brewerkz that we figured would be a good place to take Tim. We had been saving it for when he came to visit. Tim and I tried going there the first night he was here after we had dinner, but it was a Saturday night and the riverfront area is always crowded in the evening on a weekend. We couldn't get in. But when Tim and I got home we did some research on the web on brewpubs in Singapore. It turns out that there are three of them. Hey, what did you expect? This isn't Portland!
One is the Pump Room at Clarke Quay. Tim and I found this place on Saturday night after we couldn't get into the Brewerkz. Since the price for a beer varied by a factor of three depending on whether it was afternoon, evening or night, we decided to come back later in the week. We came back on Tuesday and had lunch there (before we went to Sim Lim Square). It wasn't crowded at all during the day and the food was good. Tim was disappointed when he found out that they only had two of the four beers that they advertised. No hefeweizen, which is what he was looking for.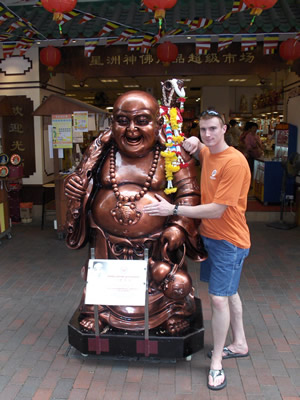 Tim rubs the buddha belly for luck.
The next day we went to BrewWorkz for lunch. The food was good but it was quite spicy. Tim liked the beer here. In fact, this turned out to be his favorite place in Singapore. We came back another time to eat later in the week. We even got their tshirts.
The last place we went to was called Paulaner Munchen Brau Haus. You can tell by the name that it was a German brew pub. It is a German chain , but most of it's locations are in Asia. Even the food was German, with items like bratwurst and schnitzel. It was right across the street from the convention center on Millenium Walk. Tim definitely liked the beer here, but it was not cheap. Not someplace you would hang out at all evening.
One day we made another trip back to Bugis Street. Tim had seen some tshirts that he thought would be good Singapore souvenirs. In one shop Tim even found a lighter with a US Third Army emblem on it. He was going to get it, but it turned out the flint wheel had rusted in place so it didn't work. Oh well. While we were there we found a Singapore Army surplus store. It was interesting looking at some of the service pins they had there. We also found a very busy Buddhist temple. Next door was a shop which carried all kinds of Buddhist figures, incense, just about anything. It was an interesting place. They also had a big statue of the Buddha in front of the shop. It took quite a while to get a picture because there was always someone coming up to pat the stature. We even went into the temple. It wasn't very large, but it was really busy. Seems like everyone who was out shopping stopped in. Some people lit candles or incense as offerings. A lot of people had mats and they would place these on the floor and kneel on them. It was an interesting place but we didn't take any pictures. We didn't think that would be respectful.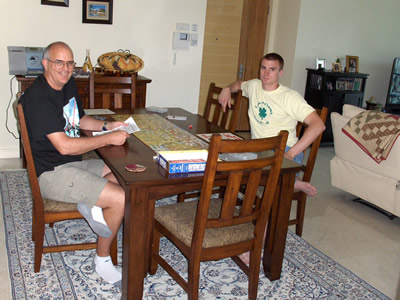 Didn't work. Steve gets all the good rolls and wins the Battle of Stalingrad.
Since Tim was in Singapore for over a week we decided that we had to get in a wargaming session. I only brought a few of my games with me. Most of them are in storage. But I did have Turning Point: Stalingrad. It is a batallion-level, area movement style of game about, you guessed it, the Battle of Stalingrad (we are both serious East Front aficionados). This game is a favorite of both of us. We took over the dining room for a couple of days so we could leave it set up while we played. I took the Germans and Tim played the Russians. I managed to score a convincing victory. It was a lot of fun (especially since I won!). We decided that we really did need to figure out a way to play computer wargames. Some turn-based wargames have a play-by-email capability. We checked through the PC games that I have and decided that we would try World at War, a grand-strategy level WWII game. It is very similar to Axis & Allies, but more complex. We are going to see if we can get in the habit of playing remotely.