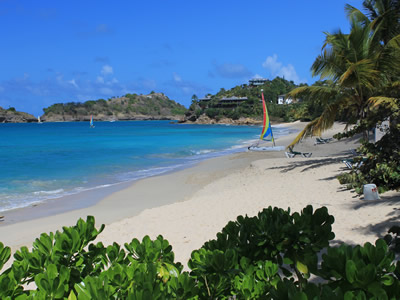 Galley Bay Resort has a beautiful private beach
Usually I do the research for our big trips. This time when we decided to do a beach vacation Sandy did all the work. She did her shopping by looking at trips offered by Costco Travel. You would think that they would feature low-budget travel but they actually have some very nice trips to interesting destinations at reasonable prices. In 2011 we booked our trip to Tahiti and Bora Bora, where we were at some of the most luxurious resorts we have ever stayed at, through Costco Travel. Sandy looked at several islands but narrowed down our destination pretty quickly to Antigua, and the resort to the Galley Bay Resort. She read through all of the reviews on Trip Advisor. Most people seemed to really like the resort. The location and the facilities sounded really good. We had never been to Antigua before so we decided to go with it. It had been a long time since we went to the Caribbean so we were excited about the trip. Even though we hadn't had the rough weather that the midwest did this year, we were tired of winter. We wanted to be warm!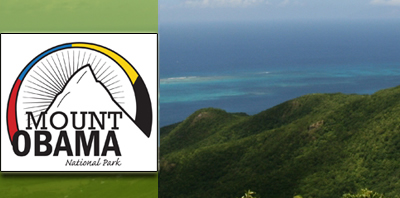 Mt. Obama National Park logo
Antigua was visited by Christopher Columbus on his second voyage to the new world in 1493. But there were no European settlements until a hundred and forty years later when English settlers from the nearby island of St. Kitts established a colony in 1632. It's economy was based on growing sugar which was heavily dependent on slave labor. Virtually all of the islands native inhabitants died of disease brought by the Europeans. The few left were taken into slavery to work on the sugar plantations. Many slaves were also imported from Africa. By the late 1700's there were over 35,000 slaves on Antigua compared to only 3000 whites. This is reflected in the demographics of the modern population of Antigua which is over 90% African descent and mulatto.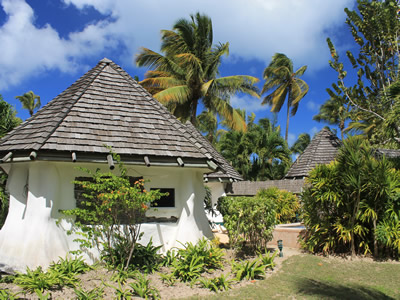 Our very own hut in paradise
Britain was ahead of the United States in eliminating slavery. It abolished the slave trade in 1807 and emancipated all of the existing slaves on Antigua in 1834. But Antigua's history of slavery left a strong mark on the people of the island. When Barack Obama became the first black president of the United States, they celebrated it as major triumph for racial equality. To commemorate the event, the highest point on the island was renamed Mt. Obama and the surrounding area was designated as Mt. Obama National Park. I was hoping to get to the park while we were visiting the island, even though it was just a hike to the top and the summit view wasn't supposed to be very good. Apparently there are communications antennas on the top. I figured that the sign shot and the story would have been worth it for the irritation it would cause the staunch conservatives in my family. As it turned out, we never got the opportunity to visit the park.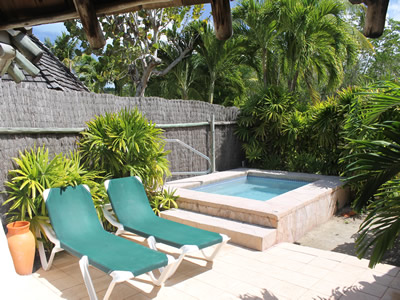 We had a private patio and plunge pool
Today there is still agriculture on the island but it's primary industry is tourism. Cruise ships dock every day at St. John's. There are also many hotels and resorts, but rather than being concentrated in one spot (like Waikiki on Hawaii or Seven Mile Beach on Grand Cayman) they are dispersed around the island. There are no high rise hotels - resorts tend to blend into the landscape. A lot of the rich and famous own houses on Antigua: Oprah Winfrey, Eric Clapton, Richard Branson, Giorgio Armani. Even Robin Leach of Lifestyles of the Rich and Famous has a house on Antigua.
We were staying at the Galley Bay Resort, which is located along the west coast of Antigua on...wait for it...Galley Bay. It's about ten miles from St. Johns, the largest (and pretty much only) city on the island. The resort is set on 40 acres which include a three quarter mile long private beach, a large lagoon wholly within the resort grounds, lush tropical jungle and ninety eight hotel units. It was a sugar plantation in previous centuries and there is a large furnace at the entrance that was used to process sugar cane.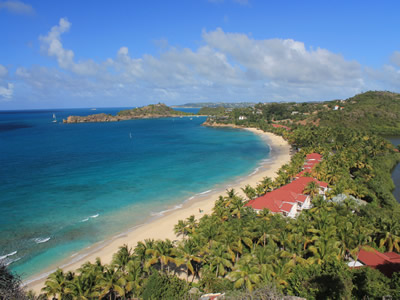 Bird's eye view of the beach and resort
Many of the units are set right along the beach in two story apartment-style buildings. It would have been nice to be right on the ocean but instead of the beachfront we opted for one of the less pricey, but more unique, Gauguin Cottages. These are about a hundred yards from the beach and back up to the shores of the lagoon. Our cottage was in a small cluster with three or four others but we had our privacy. Our patio was completely hidden from the approach path by a six foot high thatch fence that wrapped around the front of the hut. Just inside the fence was a large covered patio area with two lounge chairs. It proved to be a nice shady spot to sit during the heat of the day. The patio separated two single-room huts. One was our bedroom, with a king size bed, two night tables, a dresser and a small fridge. On the other side of the breeze way was the second hut with the bathroom, shower, changing area and lots of room for storage. During the day it was no big deal having the bathroom in a separate hut but Sandy wasn't too crazy about going outside in the middle of the night to get to the bathroom. I did my husbandly duty and had her wake me up every night so that I could accompany her when she had to make a trip to the bathroom. Then I would wait outside and admire the stars while she took care of business. Fortunately we usually only had to make one trip per night. To me it was just like backpacking, only we were camping in a hut instead of a tent. Since Sandy isn't a backpacker she thought it was kind of strange.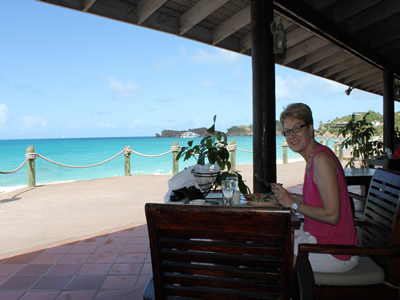 Most of our meals were right on the water
There was also a sunny section of the patio for working on your (all over) tan and beyond that a private plunge pool. The whole area behind the huts was surrounded by thatch fence or tall shrubs except for a three foot gap that led to a common grassy area and then to the shore of the lagoon. None of the guests were ever back there although one time there were some landscape workers trimming the trees and bushes. Still Sandy was a little nervous. She kept asking me what to do if someone happened to pass by and look in the back. I told her to smile and wave.
Although we weren't right on the water, we were close to the bar and the main restaurant. That was very important because one of the best things about the resort was that it was all inclusive. All food and drinks. Breakfast, lunch and dinner. Wine with meals. Beers in the bar. Snacks and fufu drinks at the pool. Anything and everything you wanted was free. That took away a major incentive to go off the resort - trying different restaurants.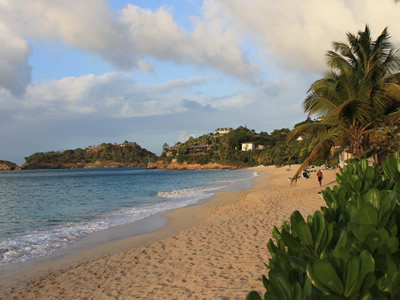 Sunset was a beautiful time to walk on the beach
All you can drink could potentially have been a problem, with rowdy drunks everywhere. But the clientele at the resort tended to late middle age so they were pretty restrained. Young children were not allowed at the resort and it was pricey enough that it would discourage a lot of younger people with large families anyway. So things didn't usually get wild. There was one night when we stayed at the bar quite late because we liked the band that was playing. Some of the old folks were getting pretty crazy on the dance floor. There was one couple in particular, an older man with a much younger woman ("just like us" Sandy said with a smirk) who were really dancing the night away. They were speaking something that wasn't English but we had no clue what language it was. We thought that it sounded Eastern European so for the rest of the week we referred to them as "the Bulgarians", although I doubt that was really where they were from. Being older and wiser myself I was much more restrained and didn't rush out onto the dance floor and make a fool of myself. I do enough things to embarrass myself as it is.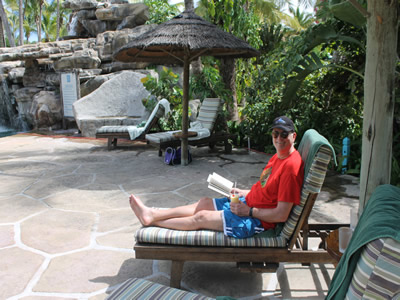 Paradise - lounging by the pool with a book and a drink
Not only was the food free (so to speak) but it was pretty good. There were a number of different places to eat at the resort. The main restaurant, the Sea Grape, was in the middle of the resort right along the beach and close to our hut. The view of the water was nice and they had plenty of space. We ate almost all of our meals there. Breakfast was buffet style with lots of tropical fruits to choose from as well cereal, toast and cooked breakfast. For lunch we cold order from a menu that featured a lot of good sandwiches. Dinner was also from a menu that changed every night but we always found something that we liked. The fact that we had plenty of good wine to go with it probably helped. The service was good too - there was no problem getting your wine glass filled. That actually surprised me. I figured that the combination of all-you-can-eat-and-drink with island time would mean that you could never get the attention of the wait staff. But our order was usually taken quickly, the food came in a reasonable amount of time, and refills on soft drinks and wine were easy to get. Usually there was one person that was walking from table to table with a bottle of white wine and a bottle of red wine looking for people who needed refills. Paradise indeed!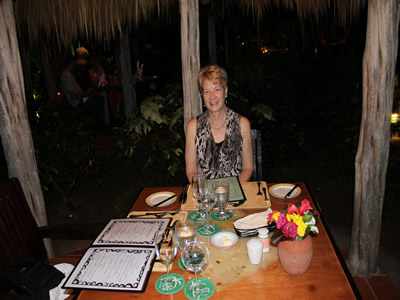 Sandy dressed up for dinner at the Gaughuin Restaurant
There were other options for meals. One day we had lunch at the snack shack - strategically located right between the beach and swimming pool and easily accessible from both. There were also two special restaurants that needed reservations for dinner. At one end of the beach was Gaughuin (clearly someone at the resort was a fan of his art). Dinner there was included in the all-included. The other restaurant, Ismay's, had a premium menu and a (significant) charge. Free dinner. Expensive dinner. Tough choice. We passed on Ismay's but did go to Gaughuin one evening.
Every table at Gauguin's was set up separately in its own little gazebo. The food was pretty much the same as the Sea Grape but it was a nice romantic setting that was a lot of fun. There was dedicated wait staff but the guy for our table, who told us it was his first night on the job, was having a lot of trouble. So our service was really slow and he got some of the items wrong. We didn't care that much - it's not like we were going anywhere - but by about half way through our dinner the manager had noticed problems and the new guy was benched and the manager was serving his tables for the rest of the evening. I hope the guy didn't lose his job! He seemed nice enough but he certainly had a rough start.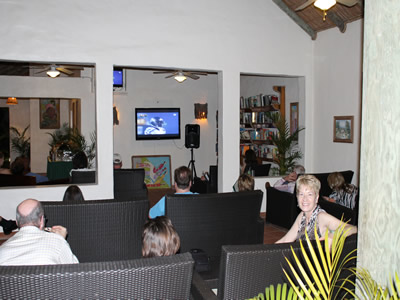 Watching the Super Bowl - Seattle destroying Denver
Actually it's not really true that the night that we ate at Gauguin's we didn't have anywhere to go because it was Super Bowl Sunday. The resort had a special party arranged in the open-air library with a large screen tv and lots of drinks and snacks (we just had dinner!). We got there at half time and were surprised to see that it was already a blow out for Seattle. Sandy didn't mind at all. Being a Badger she was rooting for the Seahawks and Russell Wilson. I didn't mind seeing Seattle win either since they had never won a Super Bowl before. It was quite a mixed crowd with Seahawks fans, Bronco fans, people who didn't care, and quite a few Europeans and Australians who were just trying to figure out what the hell was going on. We were sitting next to the Bulgarians who seemed to be totally confused as to what was happening.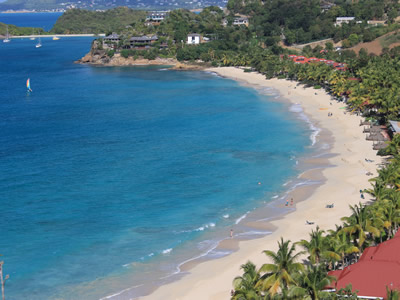 The beach at Galley Bay from the bluff to the south
There wasn't much incentive to leave the resort. We passed on all the island excursions and sailboat and snorkel trips that were available. Most days we took one or two walks along the beach. To one end, then the other, and back was a mile and a half. We also walked the path around the lagoon most days. We spent a lot of time reading by the pool, eating meals in the restaurants and enjoying happy hour in the bar. I've already covered our one trip into town.
We did take several short hikes off the resort. One day we walked up the road that went to the housing development just north of the resort. It climbed up a hill and we were hoping to get to a viewpoint of the next bay over. After about a mile we reached a gate which was unattended so we went through. But a short distance later when we heard barking dogs we decided that we didn't want to go any farther. We figured that those expensive houses overlooking the ocean might have some serious watch dogs.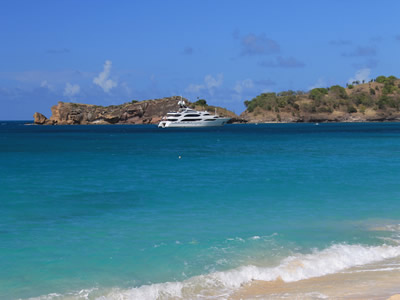 Giorgi Armani's yacht - he has a house on Galley Bay
One day I set off by myself in the other direction and walked the road to the south. According to the map it didn't go far, just over a ridge to the next bay. When the road reached the crest I could see over to Hawksbill Bay, named for a distinctive rock formation a short distance from shore. The mountaineer in me wasn't satisfied so instead of dropping down to the other side I turned upward on a dirt road that led to a small communications tower. From there I continued to wonder upwards to the high point where the ridge ended in a cliff that dropped straight to the ocean. There was a great view of the whole resort and beach. Later I walked down the other side to a small drive-in resort, the Hawksbill Beach Resort. (They're not too creative in Antigua when it comes to naming their hotels.) I had fun climbing over rocks on the shore to reach an isolated rocky point. The next day Sandy came with me and we climbed back up to the overlook of our resort. A nice photo viewpoint.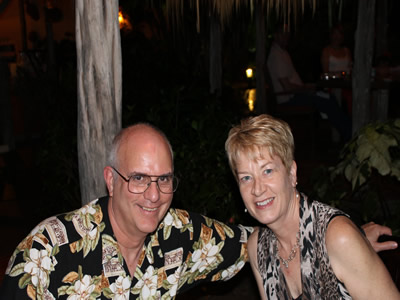 At least the new guy at Gaughuin took a good picture of us
One day Sandy went for a spa treatment. We were staying at the Galley Bay Resort and Spa after all. While she was occupied I decided to do some serious exploring. I was still determined to get to visit Mt. Obama National Park. I wanted that sign shot. The resort had bicycles that were available to guests and I was determined to peddle as many miles as it took to reach the park (I learned later from Google Maps that it was fifteen road miles to the park). In spite of my determination it didn't go well. It took several trips back and forth from the hotel desk to the bike rack to get the right keys so I could actually get one of the bikes out of the rack. That wasted over half an hour. Then I had to get out the main gate. The guards there didn't open it but they let me walk my bike through their guard shack to get out. Then I could finally hit the road.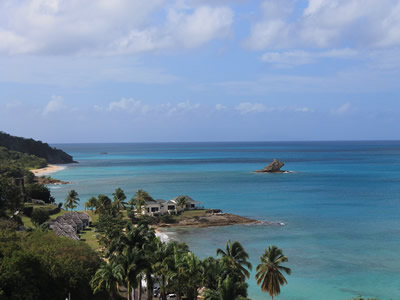 Hawksbill Bay - wonder where they got the name?
I coasted the first half mile from the resort which was all downhill. As soon as I had to climb though I only got about ten peddles in before the chain slipped off. I pulled over, found a stick on the ground and used it to slip the chain back on. Bad luck! I started off again, ten more pedals, and the chain slipped off again. After about five cycles of this even I could figure out that I wasn't going anywhere. Since it was mostly uphill back to the resort I ended up walking the bike ignominiously most of the way back. Quite embarrassed to be returning so quickly, I didn't think I had much chance to sneak back into the resort when I had to take my bike right through the guard shack. The guards at the gate smiled when I got back and were too polite to say "back so soon?". So much for my trip to the national park. At least I was back in time for Happy Hour.
Antigua and Galley Bay Resort were wonderful. All too soon it was time to pack up and head back to the real world. But I would highly recommend it as a destination.