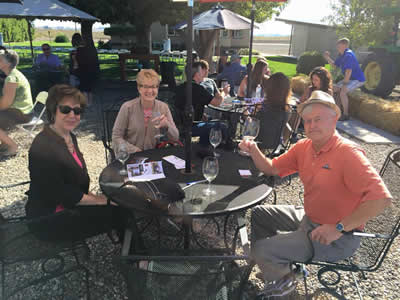 Trudy, Sandy, and Don tasting wine at Huston Vineyards
When Sandy and I travel we often take the opportunity to visit wineries in the areas that we visit. We've been to wineries in most Western States and in foreign countries like France, Italy, Australia and New Zealand. We always have fun sampling the local wines and meeting and talking to people at the wineries. But for some strange reason, we don't do it much at home even though there are about a dozen wineries in the Snake River Wine Region that are within an hours drive of our house. The one exception to this is 3 Horse Ranch Winery, which is just north of Eagle. Sandy belongs to their wine club and we usually go there once a quarter to pick up our wines. We also go there on special occasions for lunch or wine and snacks. Mother's Day seems to be our favorite.
This fall we got an opportunity to go on a local winery tour sponsored by Thrivent, a financial services company. Sandy has an account with them and the local rep is a friend of Sandy's from HP and from her church. It was free so it sounded good to me.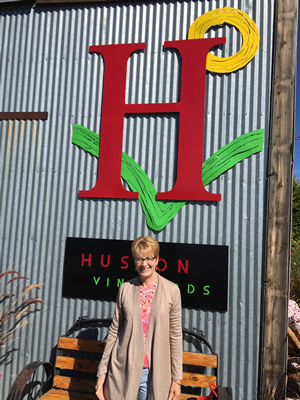 Huston Winery was our first stop of the day
Two good friend of ours were along as well, Trudy and Don Anderson. Trudy hired me at the University of Idaho and I was on her staff for two and a half years before she retired. We hadn't seen each other for quite a while so it was a good chance for us to get together and catch up on all the gossip about work.
The tour was run by Winery Seekers, a Boise company that specializes in wine tours. I thought that the lady in charge of the tour did an ok but not great job. We also did have to listen to stuff about Thrivent. They did have to justify the tour, after all. It was actually done pretty well, with contests to guess details about the company and its offerings, with Starbucks gift cards as prizes. It was actually kind of fun.
But the important part was visiting the wineries. Our first stop was at Huston Vinyards. It's a small, family owned winery. They had a picnic area behind their house with a number of patio tables. It was a nice morning to sit outside and sample their wines. They had a really nice white wine blend called Chicken Dinner White that was quite good. The lady from the winery told us the story behind the name as well as the history of their winery. They had a Chicken Dinner Red too but we're not big red wine drinkers. We liked the wines that we tasted enough to buy a half case. Only the first winery and we were off to a good start.
Next we went to Sawtooth Winery. It's one of the larger wineries in the area, more of a commercial operation than a small family shop. We tasted some good wines there and also took a walk through some of the vinyards, learning more about the history of wine growing in the area. When we were touring the winery it was right after they had done their harvest. There was a lot of fruit piled everywhere and juice from the pressing was all over the equipment and even the ground which meant that there were a lot of bees flying around. Although I knew that they probably weren't going to sting it was annoying to have them buzzing around. So this stop was, meh. I was actually glad to leave.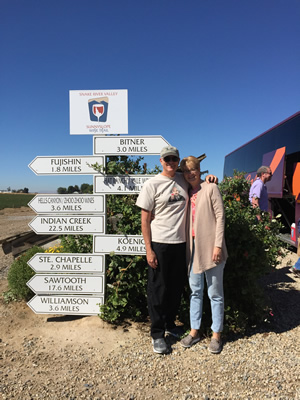 Wineries in every direction
The final winery was Indian Creek, another family winery. They had a nice picnic area too. We all sat down for a nice lunch before we moved on to try their wines.
The lady at the winery was actually a good rock climber. We found out that she had actually been featured on some "challenge" tv show. Later when we were trying the wines I tried to talk to her about mountain climbing in Idaho. Turned out that she was just a sport climber. She climbed in the rock gym but didn't know the Sawtooths at all. Ok, I wasn't as impressed.
They had quite a few wine tshirts. Unfortunately I already had all of the good ones. They even had the "Albert Winestein" tshirt that I was wearing (which I had received many comments on). So I didn't get to buy any tshirts but we did buy some wine. That was good enough.
When Sandy posted pictures on Facebook she noticed that Jan, a friend of ours, had been at Indian Creek Winery a few hours before us with her dogs. It was a popular place.
Then it was time to head home. The tour was a lot of fun. We resolved to not wait till we were traveling but to do a better job of visiting our local wineries.