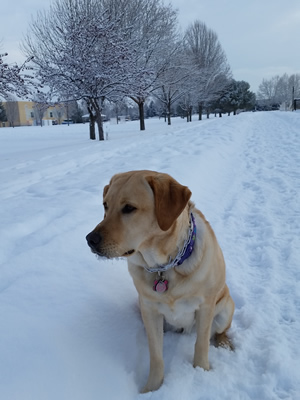 Abby with a beard of icicles
I don't like winter. I grew up in Wisconsin so I know about cold weather. I remember waiting for the bus when it was twenty degrees below zero. I shoveled lots of snow, including four foot deep wind drifts and the rock hard debris that the snow plow would leave in your driveway when it plowed your street. And I hate driving in the snow. I am definitely not a fan of winter.
When I was old enough to set out on my own I moved away from the midwest. My number one reason was to be close to the mountains but I also wanted to find a place that was warmer. Boise was a good choice and usually does have mild winters. We get a lot more cold rain than snow and when it does snow it usually melts within a day or two. Most days in winter it gets at least a little above freezing. But not always. Every few years we will have a spell of cold weather, and it always seems to come right after a big snowfall.
Sure enough that is what happened this year. 2017 has started out the same way 2016 finished off, with cold weather and snow. It snowed in mid December, starting the very first day that we were back from Hawaii. And it has stayed below freezing ever since then. So the snow hasn't melted at all. Every few days we get some more snow and it just keeps piling up.
Yesterday we had snow again, off and on all day and all night. Usually I don't worry about it. Like I said, normally you just wait a day or two and it melts off. But since we have had steady cold weather, as soon as it snows I try to shovel so it doesn't get walked on/driven on and turned to ice. Then it is impossible to get rid of. Yesterday I shoveled three times and shoveled another time this morning. We must have gotten six inches of new snow over a twenty four hour period. The good news was that it was light, powerdery snow. Still it's definitely not my favorite activity.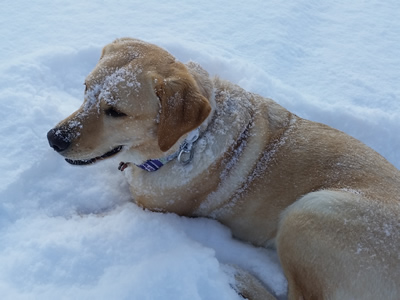 The snow dog in her natural environment
As far as I am concerned driving in snow is the worst part. At least since I am an old retired guy now I don't have to worry about driving to work when it snows. Abby still expects to go out for her walks though, at least once and usually twice every day. I don't mind that at all. The weather has been cold but not frigid, usually in the low twenties during the day. There hasn't been any wind either so no significant wind chill. It certainly isn't bad if you bundle up and are doing something active like walking.
At first I worried about Abby getting cold but she is still anxious to go for her walks. In fact, she always pesters me when I get up in the morning until I take her out. Abby seems to really like the cold weather and the snow. Today when I let her off leash in the park, she would run and jump and roll in the snow. She seems to have a lot of fun. You can see for yourself in this video that I took today. And even more so in this one. It's pretty obvious that Abby isn't feeling the cold.
Abby really does think that she is an arctic wolf.