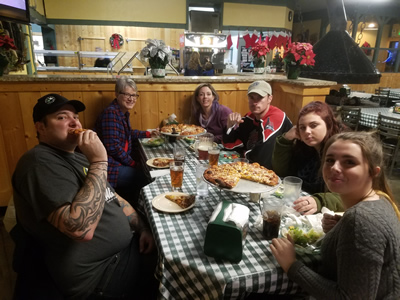 Mickey, Sandy, Shannon, Tim, Kristan and Stephanie at IPC
Both of my sons have been on their own for a while. Tim went to school at the University of Idaho in Moscow and then went into the US Army. Mickey went into the Army right after high school. Because they live in different parts of the country I don't get to see them very often. We're not a family that saves up all our vacation every year and gets together on the holidays either. Mickey and his girl friend did visit Boise in September of this year and we all had a lot of fun. I hadn't seen Tim and his family since 2013. Tim and Mickey hadn't seen each other for eight years.
Since it had been a long time since the family got together, I was excited when I found out that Tim and his family were coming to Boise to visit at Christmas. He had just returned from a deployment overseas so their arrangements were made quite late. They would only be visiting for a few days. They were going to be staying with Tim's mom while they were in Boise, but they would come by when they could to visit. Hey, something is better than nothing.
At the last minute I found out that Mickey was going to come too. The reason he was coming, even though he had just been here three months before, was that his mom was getting married. I was really excited at the chance to see both of my sons. Who would have thought that my exwife getting married again would be such a good thing?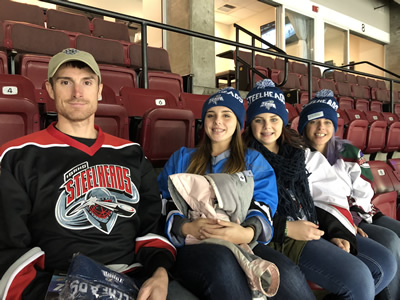 Tim and family at the hockey game
There was only one day when all of us could get together at our house. We spent the afternoon talking and catching up on things. Tim and I had a long discussion on the current situation in the Middle East and counterinsurgency in general. I read a lot and play wargames on the subject but it always helps to talk to a pro. We had the Las Vegas Bowl on the TV in the background and watched BSU beat Oregon 38-28.
Later we went to Idaho Pizza Company for dinner. Tim wanted his step daughters to see a place that he had been to so many times while he was growing up. Afterwards we went to an Idaho Steelheads game. It was nostalgic because Tim and Mickey and I went to many Steelheads games as they were growing up. It was fun watching the game but unfortunately the Steelies lost to to the Wichita Thunder 5-3.
That was the only day that I got to spend with Tim and his family. Mickey was staying at our house so when he came home we would have long talks late into the night, trying to solve all the worlds problems, and even tougher figuring out how the Milwaukee Brewers could win the World Series in 2018.
It was a short visit but it was good seeing both of my sons again, and Tim's family too. We did a lot of stuff together as they were growing up and I sure do miss having them around.