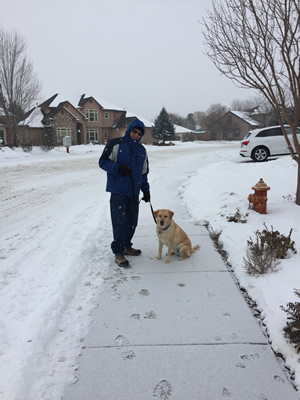 Abby and I walked all winter long
Today is the one year anniversary of my last day of work at the University of Idaho. So far retirement has been great. People ask me if I miss work. People ask me if I'm bored. The answer to both is an emphatic NO!
Now that I am retired I have a lot more time for travel, something that Sandy and I both love. We have taken some big trips. We did a tropical trip to Kauai during the winter. We took a trip to New Zealand, touring around Queesntown and doing the Routeburn Track.
We've also taken a lot of trips in North America. We spent a week in the San Juans mountains and visited Black Canyon of the Gunnison National Park in Colorado. Sandy even took a quilting class for a few days. We did some great hiking at Whistler in British Columbia. We went to the Oregon Coast and stayed in Cannon Beach. We spent a week in Montana. While Sandy took a quilting class I went to Glacier National Park. We went to Capitol Reef National Park with a friend. We visited Yosemite National Park this spring when the waterfalls were at their best in years.
I've also done quite a bit of travel on my own. I've been to several wargaming conventions: BottosCon in Canada, GMT weekend in California and Consimworld Expo in Arizona. I've done hiking trips to several national parks in canyon country: Arches, Canyonlands, Zion and Grand Canyon. Closer to home, I've done a lot of hiking in the Sawtooth Wilderness, sometimes with out-of-town visitors, sometimes just with Abby, and sometimes with both.
When I'm at home I have way more activities than I have time for. I have been playing a lot of board wargames, even getting involved in playtesting new ones before they are published. I still love computer games and play them too. Except shooters. I hate shooters. Probably because I totally suck at them.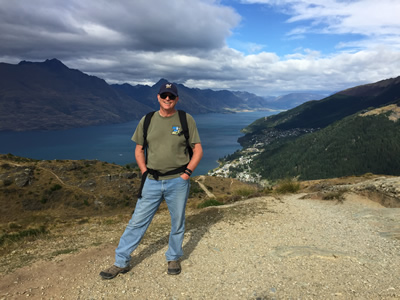 Hiking near Queenstown, New Zealand
I've been taking classes on philosophy, science and math. I am in the process of relearning calculus. That's been a lot of fun. Not everyone would agree but I have really enjoyed it. And I spend way too much time writing for this blog.
Like everyone, I was looking forward to retirement when I thought I would have enough time to do whatever I wanted. I get to do a lot, but there is still so much more I would like to do. For example, although I still read a lot, I read fewer books in the last year than in previous years.
And every day I walk the dog. Even this winter, when the weather was a real challenge, I would take Abby for a walk. Sometimes Sandy comes along with us. She likes to walk too. Other times it's just Abby and me. I take her for two walks at least and usually three walks every day. Typically it's about two hours a day. When people ask me what I do with all my time now that I am retired, I usually answer "walk the dog".
It's been a good year and I am looking forward to more like it with Sandy and Abby.